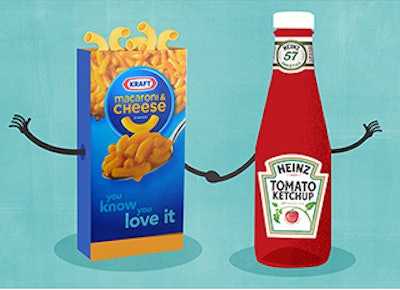 It's been a little over a month since the announcement of H.J. Heinz Co. and The Kraft Foods Group merging to create a food giant. The new company, which will be called The Kraft Heinz Company, is expected to be the fifth-largest food company in the world and the third-largest in the U.S.
But while the move has sparked mostly positive comments from investors and the media alike, the move does not come without some concerns. One, in particular, is how the supply chain will be affected.
In an exclusive interview, Food Manufacturing spoke with Brian Lindenmeyer, a principle solutions consultant for supply chain planning & execution systems at International Business Systems (IBS), about the supply chain management implications we can expect to see from the Heinz/Kraft merger.
Brian: There's obviously some better supply chain opportunities surrounding the Heinz/Kraft merger. Interestingly enough, having actually consulted for Kraft Foods in the past, they are a fairly mature supply chain network. The food industry has predominately been one of low margins so they've been one of the industries that's always been fairly efficient at their distribution processes. There's not a lot of waste or non-value added activities going on. What I think is interesting that hasn't been talked about is the opportunity for these companies to take a step back and relook at what really needs to be the best practice and does it change based on a mix of the inventory.
Q: Reviews of the mega-merger of Kraft and Heinz are mostly positive, as analysts see the deal as a logical response to an increasingly cost-sensitive consumer market and an underperforming brand portfolio at Kraft. But in your expertise, does the merger make sense from a supply chain management perspective?
A: Yeah, I think it does. Outside of the fact that these are two of the biggest food players in the business, obviously there is some certain niche markets that wouldn't agree, but I do think that they are two of the larger players. I think boutique manufacturers of a certain product have figured out their niche and they aren't necessarily trying to compete with Heinz or Kraft. But General Mills, for example, isn't really going to be swayed by the fact that there's this big merger coming down, even though they are in competition with these two food players.
What an end-user is going to wonder is "How is this better for me?" Let's start with the obvious, does this merger actually help the end customer? Am I going to buy more Kraft and Heinz products? Aside from the easy stuff, what's it going to mean down the road and what are the true synergies? Will they improve stock levels with the handy kits? Now you're talking about they have everything to make a hotdog for a July 4 party. Are they going to start selling me a kit that makes it easy for me to buy everything so that I don't have to go buy buns, buy hotdogs, buy relish, buy mustard and buy ketchup? Can it all be in a pack? That's what the unknown is here. Because all of a sudden now what that really means is they are going to have to add costs because that kit does cost some money to put together. Consumers in the world have become a "I want it now. I want it premade." Nothing is worse than buying 12 hotdog buns, but the pack of hotdogs is only 10. What do you do with the other two buns? It never made sense. So now that we have a company that makes both of those products, are they going to size them accordingly? Are they going to set themselves up to do that? Because right now they are just a wholesale large distributor. People haven't really thought about that component of it. While this will happen kind of all the way back into the manufacturing, it really spills into their distribution operation. They could build the kits as they need them, or as Walmart wants them, for example. But what happens when you end up having to dump them out on the wholesale marketer at pennies on the dollar to try and move the inventory? To be able to dekit them quickly and sell them as individual units if that's where the market demand is for those products, are they going to be flexible enough to do so.
Q: In order for the now fifth-largest food company in the world to emerge, how should it address the future of its well-known brands?
A: I think on the Heinz ketchup side they've done it differently. It's interesting how I think French's mustard is going to get impacted, because I don't know if you seen the commercial but they are already positioning that Heinz has a new formula for the Heinz mustard. Nine times out of 10, my assumption is that means they've just taken the French's recipe and they're plugging it into a Heinz bottle. So they haven't gone the step of integrating those brands, instead they are still looking at the brands as being independent. Now, I'm not a marketing person, but if all of a sudden someone who loves French's mustard tries the new formulation of Heinz mustard and likes it, and its cheaper, that customer just cut into the revenue of French's mustard product. So, would that really help or hurt the company? Particularly, the manufacturing costs are one in the same.
Q: With intense merger and acquisition activity, rising commodity prices and the slowing of global growth, food companies are reorganizing to try to gain competitive advantage. But does bigger really mean better? In the food industry, synergies and economies of scale are growing tougher and tougher are not always guaranteed. Will a larger company performance truly be better?
A: On the initial side, yes obviously they are able to go be either the 800-pound gorilla or they can go renegotiate contracts. The reality is, all of a sudden they are going to go to their key transportation carrier who was servicing both of them, and say "Now that we are combining, we want a bigger discount. We are one company now, so it's only one invoice." But if they beat their vendors up too much, the profit margin which their business was supported on, is no longer there. So it's an indirect fallback. The new company is going to push some things and others [vendors] aren't going to be able to react. So what we are really talking about here is learning to have partner collaboration. Big is okay because they have the power to do that, but I think what this means for other organizations, let's say the smaller people like the off-brands and the secondary brands, is they have an opportunity now to go find other products in this business and start collaborating as partners and going and getting similar deals. Now smaller companies are going to say "Hey, let's both go to this carrier and say we will give them our business so that we can get effectively the same rate that our Kraft/Heinz company is going to have." They're going to start looking for opportunities to expand their trading partner collaboration to be like Kraft or Heinz without it being an actual acquisition. Ultimately that does mean the vendors that support distribution, like transportation companies, are going to be squeezed to the point where we're going to see a little bit of a fallout there. Those that succeed will succeed and those that fail will fail. But then we could see a rise in market cost for that.
Q: Can you speak to some of the operational and structural decisions that come along with a merger of this size? How will changes in warehousing, packaging and distribution help with efficiencies across the well-established product lines?
A: I definitely think there are some areas of opportunity for improvement where they'll look at, from a manufacturing perspective, if they have production lines that make some of these products that can be shared. They will look to see if a line is suitable for running the bottle that Heinz mustard is typically produced on versus what French's is and if they can run it in parallel. If so, great, there is an opportunity there. Or, they will want to restage the packaging to make that work. When we start to think of their customers, like Sam's Club or Walmart or Target, there is an opportunity for those customers to be able to instead of buying a pallet of mustard, maybe buy four cases of French's mustard, three cases of Heinz ketchup, three cases of Heinz relish, 2 cases of Heinz mustard, and that will make up their one full pallet. That's where we can see some real opportunities where buying larger quantities from the same customer could help them. I think those are some things that aren't really considered in the cost savings part yet, but are there if the future supply chain for Kraft and Heinz can support that kind of mixed pallet setup.
Q: The move is happening at a time when supply chain talent that is knowledgeable in building value networks is at an industry low. Supply chain management is 30-years old and many of the first and second generation of supply chain pioneers have left the industry. What can companies do to ensure a successful redesign of these large supply networks?
A: You bring up a good point that I think is relevant really in an industry. I think this merger really won't be tested on this concept, though. I would probably change your question to say: How can supply chains be ready for what the next generation requires out of a supply chain? I find myself, even, shopping more at quick stores. I don't go to big-box grocery stores anymore, and I certainly don't go to Sam's Club. It used to be the thing to go buy a 48 oz. bottle of ketchup and have it last you all year. But the problem now is I don't even get through a 12 oz. bottle of ketchup because I am always eating out. So there is a fine line for food manufactures to create what we we'll call food-service level quantities, or packaging for food service. I do think that we are getting in to a culture that is more of a I will go get it at the store, even if I don't eat it there, but have someone else make or prepare my food versus the stuff that I buy for home is stuff I just need to get me through the day or week. That is definitely I think a younger-generation way of thinking. So, is Kraft and Heinz going to be prepared to start looking at ways to package product without selling me a super-size or jumbo size, but instead sell me a variety pack? I think we're more often willing to try things in an assortment. So if they are willing to take that forward, that is where I think the next true initiative of this kitting component is. It's a realignment of what we do inside the four walls of a distribution center.
Q: Can you name a few major challenges you foresee a merger of this size causing throughout the supply chain? While no one can predict the future, what do you believe are the key takeaways for a merger of this size to really be able to survive and thrive?
A: Some of the immediate concerns I have is the impact they will have on the suppliers that they both use. The supplier that was comfortable supporting Kraft and Heinz separately, is now being squeezed tight. Now that the $1.2 billion that they're going to save is simply squeezing that out of the vendor or supplier that they were working with, how is that vendor going to be capable of supporting when essentially their margins just got taken down? That's like me telling you that if all the software companies, for example, that you sold ads to in your magazine, came to you tomorrow and said they are creating one giant software company. Do you think they are going to all continue paying you what they were paying you before? Now all of a sudden you immedately are going to have them barking down and telling you they want to pay half. Can your business model support half the revenue that you were getting when it was ten different software companies? So no different, Kraft and Heinz (the gorillas in the room) are now the massive King Kong. They're going to go after every vendor, which is traditional of a big merger like this. So, I don't think Kraft and Heinz are going to fail, but it's going to be people that were supporting them that are going to start falling apart if they're not willing to change the way they block, run and tackle. So how do they support it? They're going to have to get nimble quickly. They're going to have to figure out how to reduce their costs to have similar margins that they had before.
About
Brian brings more than 18 years of experience in supply chain, manufacturing and service/store operations, strategy, and process improvement; working both as a client and a consultant. Brian is currently a consultant for IBS, a leading global integrated ERP, WMS and supply chain distribution software solution provider. For more than 35 years, IBS has helped customers streamline, automate and accelerate their distribution network processes, and drive profitiability and efficiency.