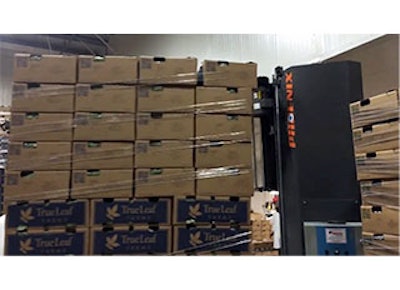 The average consumer rarely thinks about how their strawberries, asparagus, eggs or yogurt got to the supermarket aisle. They simply peruse the items and select the ones they want. But those strawberries have been on a journey of many steps, considerations and challenges to arrive fresh and ripe on that supermarket shelf.
Because of the many variables involved in packaging and shipping, getting perishables from point A to point B is one of the most challenging aspects of food manufacturing. Buyers – whether it's a grocery store or the end-consumer – expect a safe, attractive, fresh product.
ALSO SEE: Meeting Today's Fresh Food Challenges
There are hundreds of ways to package perishables – and thousands of products that can get the job done – but there are a few guiding factors to packaging perishables successfully. In this post, we will outline some of the challenges associated with packaging perishable foods and how to overcome each.
Securing the product
A well-built pallet starts with the building blocks of individual boxes or other packaging. This is the foundation of a successful delivery. When dealing with perishable items, like fruits or vegetables, items have to be protected from dust, pressure and any impacts.
Finding the right packaging solution is the start. There are numerous options, many which are specific to the product. A packaging that cradles the product and/or provides support to keep the weight from crushing the product is a no brainer. Look around and test a few different options before settling on a product.
Another option to strengthen the foundation of a pallet is to apply an adhesive to bottom of the box or other packaging to keep them from sliding around.
Protecting the pallet
When it's time for a pallet to leave the warehouse and head out to its destination, the product has to be protected from environmental impacts. With perishable goods, that means everything from temperature changes to dust to rough movement.
Working with an experienced third party logistics company is the best way to find a fast, efficient and safe route for the perishable product. Ensuring the perishable goods stay within the safe temperature range as defined by USDA is imperative to food safety. If in-house transportation isn't an option, look for a company that specializes in perishable goods and has a strong track record.
To protect a product from dust and other environmental elements, as well as prevent it from toppling, some sort of shield between the product and the environment is necessary. Stretch wrapping is a common solution for pallets, along with stretch hoods and shrink wraps. Any of these methods provide a tension-based plastic wrap that secures the diverse packages as a single palletized load.
Letting it breathe
Fresh fruits and vegetables, or even food that is packaged warm or frozen, needs to be able to breathe. While not applicable for all perishable goods, it's a big challenge for those food manufacturers where it is an issue. Some type of wrap to secure the pallet is still necessary, but the options we discussed in the last section may not work as well with this type of product.
For example, a freshly picked strawberry smothered in plastic wrap will spoil quickly. Without the proper ventilation and protection from moisture, the load will be at risk of premature spoilage and damage. Stretch wrapping offers a cost efficient solution, but not at the expense of a spoiled pallet of goods.
What other options are there? There are specialized, breathable stretch wraps (or netting) available. If perishable goods are at the core of operations, investment in a customized stretch wrapper – one that mechanically slits standard stretch wrap into multiple bands – is a cost-effective solution. Designed specifically for this type of application, the stretch wrap bands provide enough tension to keep the load secure and still allow the product to breathe.
Doing it with efficiency
When it comes to a product line at any food manufacturer or distributor, efficiency, flexibility and speed are the hallmarks of a well-run warehouse. With perishable foods, efficiency becomes even more important as the safety and freshness of the product is at stake. If production warrants, elements of automation, including automatic (or semi-automatic) stretch wrappers, conveyors, and palletizers, would be worthwhile investments.
Final Thoughts
Getting perishable goods from their source to consumer is a challenging proposition. Safe distribution of a perishable food product needs proper planning and the right tools. Finding the most efficient route to distribute perishable goods helps not only the bottom line, but also provides the consumer with the freshest product possible.
These are a few essential factors that go into successfully packaging perishable foods and ensuring a fresh delivery. What are some of the challenges you face when packaging and transporting perishable foods? We would love to hear some of the ways you have learned to overcome them with comments below.
About the author
Graham Nicholson is the sales executive for Phoenix Wrappers and has more than 25 years of experience in the stretch wrapping industry.