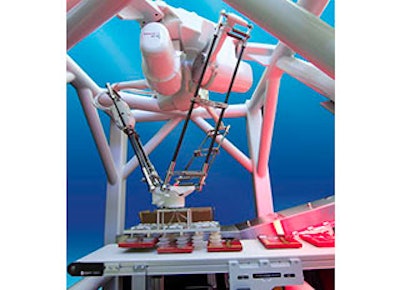 When President Obama signed the Food Safety Modernization Act (FSMA) into law in 2011, FSMA's 2015 and 2016 compliance deadlines seemed far away. Now, time grows short for food and beverage brand owners to harmonize their operations with resulting regulations. FSMA's first set of new rules, which governs preventive controls for human and animal food, took effect Aug. 30, 2015, with compliance required within one to three years, depending on the business.
ALSO SEE: What Food Manufacturers Need to Know About the Food Safety Modernization Act
The first legislation of its kind in more than 70 years, FSMA was designed to help federal regulators prevent food safety incidents before they occur, rather than react to incidents after the fact. This fall, PACK EXPO Las Vegas (Las Vegas Convention Center; Sept. 28-30, 2015) will feature exhibitors that have been proactive in their efforts to get ahead of the historic legislation.
First, a Recap
"The compliance deadlines have been on everyone's minds the past few years as FSMA nears finalization and full implementation," said Kyle Thomas, Strategic Business Unit Manager at Eagle Product Inspection (Booth #C-3803). "Compliance with these rules is mandatory by the end of 2016, so food manufacturers need to actively prepare for the enforced regulations if they haven't already started."
FSMA gives sweeping new regulatory and enforcement powers to the U.S. Food and Drug Administration and affects nearly every link in the food supply chain. It was imperative for packaging companies, which represent a critical line of defense in the battle against food contamination and foodborne illnesses, to begin preparing well in advance.
The preparation was critical not only for themselves and their clients, but also for the consumer. Salmonella, E. coli and listeria outbreaks have had adverse effects on public health and put consumers on edge.
According to the U.S. Centers for Disease Control and Prevention's latest report on trends in foodborne illness, "Foodborne infections continue to be an important public health problem in the United States and highlight the need to move forward with preventive measures." The agency estimates that foodborne illnesses affect one in six Americans every year. That amounts to 48 million people falling ill, including 128,000 hospitalizations and 3,000 deaths.
As part of the overall effort to bring those numbers down, "Food manufacturers must maintain records of internal audits, safety plans and recalls," Thomas said. "The FDA can request any of this information, set corrective action, demand product recalls and financially penalize where appropriate. FDA inspections of plants are mandatory every three to seven years, depending on facility risk. Food safety plans must be written, hazards analyzed and controls created to prevent failure."
Eagle is contributing to the packaging industry's readiness for FSMA with innovations such as its SimulTask PRO Image analysis software, which comes standard on every x-ray machine the company sells.
The software detects and rejects products with contaminants and defects while simultaneously verifying seal integrity, fill level, mass measurement and component count across different production lines and products without the need for manual changeovers. Users can access reports and statistics on inspected products and its verification tools assist compliance with hazard analysis and critical control points (HACCP) and preventative controls required by FSMA.
Solidarity and Anticipation
Morris Packaging (Booth #S-6906) also aims to stay ahead of the FSMA curve. The company, which makes corrugated containers, containerboard and poly bags for a wide variety of applications, recently built a brand-new facility in Jefferson City, Missouri. While FSMA calls for a mandatory inspection schedule, how the inspection regime applies to the packaging materials and container manufacturers used by food processors is unknown. However, the new facility, in operation since the end of April, was designed to pass any audit associated with the law.
"FSMA doesn't just affect one company, but thousands. So we started on our building in July 2014," said Brian Steinwager, Vice President, Morris Packaging. "We're not sure where it's going to end up for packaging companies, and we might not know for three to five years, but we're planning for the most extreme conditions."
Steinwager added that company owner Jim Morris, who also owns ingredient company Heartland Supply Company, has firsthand understanding of the urgency behind FSMA compliance. Through his involvement with the Grocery Manufacturers Association and the Food Ingredients Distributor Association, Morris assisted with the regulations guidelines for FSMA. Steinwager said Morris Packaging's efforts to fall in line with FSMA well ahead of schedule have not gone unnoticed by its customers.
"We've had very positive feedback from customers regarding the new building and how we are getting out in front of FSMA," he said. "From their perspective, it's one less thing they have to worry about."
For leading processing and packaging solutions supplier Bosch Packaging Technology (Booth #C-2800), preparations for the implementation of FSMA regulations focused on designing equipment to meet anticipated customer needs.
"Under the new FSMA regulations, food manufacturers will be required to identify hazards associated with their applications and to prepare and provide Hazard Analysis and Risk-Based Preventative Control Plans (HARPC)," said Bosch Product Manager Paul Garms. "When selecting equipment to meet FSMA standards, food manufacturers need to consider packaging machinery with the necessary hygienic design for their application. Utilizing hygienic packaging machinery can significantly reduce the risk of physical, biological or chemical contamination being introduced to the food product."
Integration and Enhanced Robotics
Wes Garrett, packaging integration account manager for FANUC America (Booth #C-5244) says his company is on track to comply with FSMA. "FANUC's integrators and end users are specifying equipment to meet the requirements of the act," he said. "In most cases, the deadlines should be achievable."
FANUC specializes in solutions for robotics, CNC systems and factory automation, manufacturing serial-link and delta-style robots capable of handling any food or beverage application, from raw to packaged material. It was vital for the company to change how it builds its products to help food processors make a smooth transition.

"Our integrators need to work closely with customers to deliver compliant systems for the end users to pass inspections," Garrett said. "It also means that a lot more stainless steel will be required to comply."
FANUC continues to develop new robot variants with secondary food grade capabilities and higher ingress protection (IP) ratings to meet customer demands. These robots include FDA-compliant material and surface finishes.
Changes to the FDA's rule governing hazard analysis and risk-based preventative controls will require companies to self-monitor more than ever before. Robot manufacturers like FANUC will need to ensure compliant material and surfaces during development. Because of the additional scrutiny that FSMA standards apply to packaging companies and packaging machinery makers, customer education will also be critical to the compliance process. "Integrators," Garrett said, "will need to be sure to specify, order and apply the correct robot variants and options for the application required."
'Another robot supplier, Omron Automation & Safety (Booth #C-1928), has revamped its offerings specifically with FSMA in mind.
"It's a whole new ballgame," said Omron Industry Marketing Manager Laura Studwell. "We have an entirely new set of products that are better suited for meeting FSMA requirements."

The company's new IP69K delta robot is one example. Omron added the technology to its portfolio in order to satisfy growing demand for solutions that enhance automation further upstream in the packaging process. The IP69K robot is designed to handle raw materials and food that could contain foodborne illnesses. Its high-speed, top-loading, pick-and-place capabilities are also well-suited to chemical and pharmaceutical products, and its smooth, rounded, bolt-free surface means it's especially easy to clean and sanitize.

"The nice thing about robots is that, when regularly washed down and properly cared for under a HACCP plan, they don't present the challenges that people do on the line," Studwell said. "They don't have hair that can fall out or bodily fluids like tears, sweat and blood. A robot doesn't have any of those uncontrollable human attributes that can jeopardize product safety further upstream in food manufacturing."

Omron's new robot can also hold up under powerful sanitizing processes that will be necessary to comply with FSMA. Designed to withstand a harsh wash-down, the IP69K robot is equipped with a fully enclosed system for gearboxes, servo motors and cables, preventing water ingress.
"The whole point of FSMA is to get rid of foodborne illnesses," Studwell said. "Companies will need harsh wash-down equipment in their facilities, or they're going to continue to have holds and recalls."
Investment and Reward
A wide range of solutions for compliance with standards generated from FSMA can be found at PACK EXPO Las Vegas. As these suppliers roll out solutions to anticipate customer needs, many can empathize with the hurdles food processors face.
With regard to Morris Packaging's new facility, Steinwager noted the significance of the company's investment.
"It cost a lot of money," Steinwager said. "The concrete and steel cost more than actually laying the concrete. We polished it and sealed it, so we had no open, porous concrete. The inside of the building is fully sealed so we can steam-clean it. There are also wash stations for shoes, and employees have to go to the wash station before they go onto the floor."
Garrett concurred that the investment in the future of food safety has been significant for FANUC as well. "As the manufacturing costs are driven up, we try to pass as little as possible to our customers," he said. "It is important to keep robotic automation a viable option for food manufacturers."
He knows the upgrades that stem from FSMA compliance serve a greater good.
"With improved monitoring plans and increased inspection frequency, consumers ultimately get better, safer, uncontaminated product," Garrett said.
Despite the substantial changes and challenges, technology suppliers look forward to the finalization of the FSMA regulations with optimism. With much of the toil behind them, industry players are ready for a new era in food safety.
"It's going to make us better," said Steinwager. "I would hope it will make everybody better."