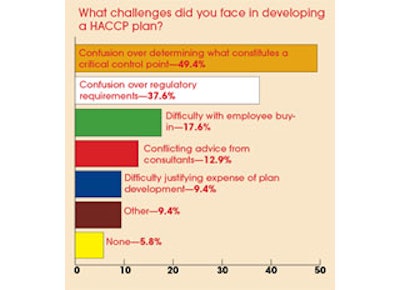 This article originally ran in the April 2013 issue of Food Manufacturing.
The Food Safety Update section of Food Manufacturing is designed to offer our readers insight into the state of food safety concerns across the industry. We received hundreds of responses to this month's survey on developing a HACCP plan.
With the passage of 2011's Food Safety Modernization Act (FSMA), HACCP planning is now required in all food processing facilities. Though the majority of manufacturers already had plans in place — and some industry segments were already required to participate in HACCP planning before the FSMA — these new requirements are having an impact on the industry.
Most food manufacturers report no change in HACCP planning due to these new regulations, but 41.2 percent of survey respondents said the FSMA prompted changes or updates to HACCP plans. Regulatory requirements are just one of several factors impacting HACCP plans across the food industry. Food Manufacturing readers reported the following factors as having an impact on the development of their HACCP plans:
Commitment to food safety—80.8%
Regulatory requirements—56.4%
Customer demands— 41.0%
In keeping with past surveys, we see that food manufacturers are continuing to consult with a variety of sources in developing HACCP plans for their facilities. The chart below shows the variety of challenges faced by food processors when developing their facilities' plans, and processors report relying on a wealth of sources to meet these challenges:
Internal QA/QC experts—52.3%
Consultants—50.0%
Government agencies—31.4%
Employees—15.1%
Customers—14.0%
Equipment vendors—10.5%
Universities—8.1%
Other—11.6%
The maintenance process for HACCP plans seems to differ across the industry. While the majority of processors (56.6 percent) report setting a plan and revisiting it periodically for review or change, 43.4 percent of respondents say their plan is fluid and always open to change. The initial development process also varies. When asked how long it took to develop their original HACCP plans, respondents reported:
0-3 months—18.3%
3-6 months—35.4%
6-9 months—25.6%
9 or more months—20.7%
The chart above also shows some variation in operation, as food manufacturers consider the ramifications of the FSMA's requirement to implement a food defense plan in addition to existing HACCP plans. While a narrow majority of food manufacturers report having existing food defense plans in place, most of the remaining survey respondents are still evaluating how these plans may be introduced into their facilities.
Where we do see unity of opinion in this survey is among respondents' satisfaction with their own plans and with HACCP planning in general. When asked, "How happy are you with the HACCP plan your facility has developed?" respondents reported they were:
Very happy—36.9%
Satisfied—47.6%
Convinced their plans need adjustment or improvement—13.1%
Skeptical of the HACCP planning process in general—2.4%
While we see quite a bit of diversity in the HACCP development process, from consultation to implementation to maintenance, food manufacturers report a generally positive experience with their HACCP planning processes, which reflects historical data showing a general approval of mandated HACCP planning across the industry.