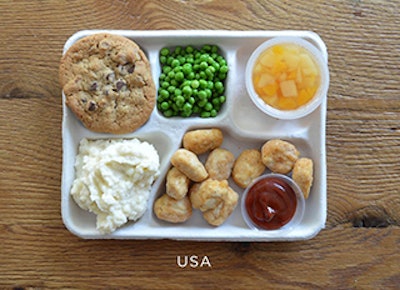 Students unhappy with school meals have been taking it out on first lady Michelle Obama by sharing images on social media of lunches sarcastically tagged #ThanksMichelleObama.
The first lady has become a symbol of healthier school meals as she has pushed standards implemented in 2012 that require more fruits, vegetables and whole grains in the lunch line in an effort to combat childhood obesity.
It's no secret that nearly one-third of children in America are considered obese or overweight. So in an attempt to regulate what American children are eating, the National School Lunch Program was created in 2013.
While the U.S. government is making strides to improve the current condition of the food we're serving our youth, the students are less than pleased.
"Had a very #healthylunch today," Hunter Whitney of Wisconsin recently tweeted. "The apple definitely made up for the 'mystery mush' #ThanksMichelleObama."
Take a look at these photos of school lunches served around the globe, originally posted on Sweetgreen's Tumblr account.
An average school lunch served in the U.S.
(Popcorn chicken with mashed potatoes, peas, a fruit cup and a chocolate chip cookie.)
Now let's compare that image to countries around the world who seem to be nourishing their students with much more nutrient-rich foods.
Brazil
(Pork, mixed vegetables, salad, black beans with rice, baked plantains and a piece of bread.)
Italy
(Fish served on a bed of argula, pasta with sauce, caprese salad, grapes and a baguette.)
Finland
(Pannakkau — which is a dessert pancake with fresh berries — along with pea soup, beet salad, carrot salad and a piece of bread.)
South Korea
(Fish soup with tofu and rice, kimchi and fresh veggies.)
To view more lunches from around the world you can check out this article by The Huffington Post.
After viewing these photos, I can't help but think that the U.S lunch looks a lot like those of my childhood: Once-frozen-then-fried food with a lot of sugar and salt.
And the others? Well let's just say I would sure like to have studied abroad if that were an option growing up.
While Michelle Obama may be trying to take the necessary steps to include healthier options in school cafeterias, I certainly believe that more can be done. After all, there are nearly 100,000 schools in the U.S. that serve lunch to more than 30 million students each day. The average student is said to consume more than half of their daily calories while at school. So why can't we give back to our students in nutrition like other countries can?
Please feel free to reach out to me and let me know your thoughts! Do you have ideas and resources that could benefit our nation's students? Let me know at kari.imberg@advantagemedia.com or (973) 920- 7795.
ENTRIES OPEN:
Establish your company as a technology leader. For 50 years, the R&D 100 Awards, widely recognized as the "Oscars of Invention," have showcased products of technological significance. Learn more.