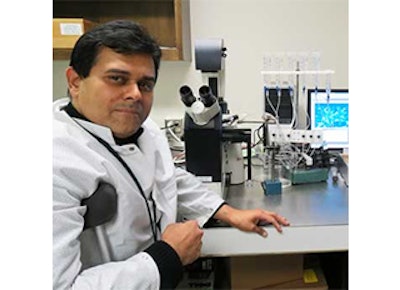 Every Thursday, Laboratory Equipment features a Scientist of the Week, chosen from the science industry's latest headlines. This week's scientist is Baskaran Thyagarajan from the Univ. of Wyoming. He and a team found that capsaicin — the chief ingredient in chili peppers — could be a diet supplement for weight loss.
Q: What made you interested in studying how chili peppers can affect weight?
A: Previous studies have addressed this but did not consolidate the mechanism by which capsaicin inhibits obesity. Our study is unique as it uncovered the mechanism behind the anti-obesity potential of capsaicin. I have extensive experience on capsaicin research, over approximately 10 years, and our lab is always interested in finding a cure for metabolic and degenerative diseases
Q: What are the future implications of your research and findings?
A: This opens up the novel possibilities for targeting TRP channel proteins, especially TRPV1, for new drug development to counteract metabolic diseases.
Q: What was the most surprising thing you found in your research?
A: We are surprised to uncover the anti-obesity potential of capsaicin, an active ingredient of chili peppers. We discovered a novel mechanism of action in capsaicin, which we have communicated for a peer review publication.
Q: What is the take home message of your research and results?
A: "Spice up your diet to keep obesity away," is our mantra. Eating chili peppers regularly with diets will help in the prevention and treatment of abnormal body weight gain.
Q: What new technologies did you use in your lab during your research?
A: We used state of the art research methodologies including gene quantification, confocal imaging techniques and whole animal models to uncover the benefits of pure capsaicin.
Q: What is next for you and your research?
A: Obesity is a major epidemic in our country. Our approach to tackle this problem can be used by anyone. We are working on developing a validated diet based capsaicin oral supplement for human clinical trial and are in the process of submitting federal grant applications to advance this goal. We are very optimistic that our efforts will bring a novel drug into market — making the tax payers money yield potential benefits not only to our country but also to the entire world.
We have already submitted a U.S. patent application for a polymer coated nanoparticle capsaicin delivery system for counteracting obesity. The novel mechanism by which capsaicin causes the effect will advance the development of capsaicin as a simple dietary supplementation to prevent and treat obesity. The novelty here is that having a reliable and natural dietary supplement to prevent obesity. All chili peppers contain capsaicin but the concentration of capsaicin is extremely different among the varieties of chili peppers. Our supplementation dosage form will contain standardized pure capsaicin.
To read past Scientists of the Week click here.