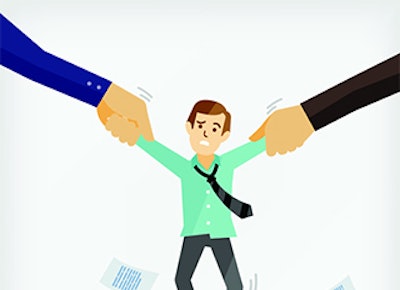 A recent case (in which I defended the hiring competitor) gives flavor to the types of claims that are often brought when one competitor hires one or more employees of another competitor. It also serves as a reminder of the "Do's" and "Don'ts" when hiring experienced employees.
Company A hired three employees from Company B over the course of nine months in the saturated market of consulting services. Company A was more than willing to fill open positions with former Company B employees — they had experience, knew the business, and, in this case, sought out Company A. For many reasons, Company B believed that litigation was the solution. It was well capitalized and had an army of lawyers. It may also have wanted to send a message to stop any future defections. It filed a 13 count complaint against Company A for copyright infringement, trade secret theft, conspiracy, fiduciary duty breach, interference with contract (each former employee had upon hire signed some version of Company B's employment contract), conspiracy, and unfair competition. The complaint was accompanied by a motion for preliminary injunctive relief to enjoin all of the former Company B employees from working for Company A.
While the facts of any case are unique, they can be "spun" any which way. Even one bad fact can set the tone and theme for a plaintiff. Here, one of the former employees had previously downloaded a customer list to her personal e-mail, but solely to do her job while employed by Company B. Company B turned this into treason, seeking harsh penalties in civil court. Another former employee used materials obtained from a vendor to both companies in a consensual webcast to claim copyright infringement. While Company A did not in fact recruit any of the three employees (also sued in the case), the court papers made it sound as if Company A "raided" Company B employees and actively sought them out to convert confidential information, trade secrets and customers. While not accurate, hostile litigation ensued between the two competitors.
Making matters worse, the complaint was filed in a court that had no connection with Company A or the employees, but derived from a provision in the employment contracts fixing venue, jurisdiction and the law in a particular state. To add insult to injury, Company B twisted the facts: (1) the download of company information for business purposes; (2) one employment contract that contained a true non-compete (which was not noticed by Company A until suit was filed — even if enforceable which it was not under state law); and (3) asserted a copyright for materials that had been created by a vendor; (4) "raiding" even though each employee independently sought out employment with Company A. This litigation was muddy, but Company B had the legal horsepower to bully Company A. Ultimately, the case settled, but only after an initial round of heavy dismissal motions based on jurisdiction, venue and inadequate facts, none of which were in favor of Company B, but all at a significant cost to Company A.
So, what lessons can be learned (or rekindled) from the case described above?
DO:
Follow the Golden Rule. Treat your employees as you would want to be treated. Work to avoid defection and protect your investment in each employee.
Ensure that each applicant discloses any contract, agreement or covenant that impacts their post-employment activities. All should be reviewed by counsel.
Carefully consider multiple applications from the same source, as well as any agreements that affect their post-employment obligations. One example from this case study is the provision fixing the law, venue and jurisdiction in a far-away land.
Consider, in the appropriate context, extending indemnification to an employee hire that "is worth the risk."
Evaluate the likelihood of litigation: what does an employee know, how did he/she obtain information, was it from prior experience in the industry, how long had he/she been employed before seeking new employment?
Instruct the potential new-hire to maintain all communications as confidential and not to discuss them with anyone, particularly with co-workers.
Implement a "clean" paper trail, showing not only your efforts to avoid any impropriety and ensuring (by representation and warranty) that you as the hiring employer are following all key protocols.
DON'T:
Don't let any employee leave their prior employment with any materials of his/her former employer and don't ask for any such material — PERIOD.
Don't ask for any information about the employee's former employer and/or his/her role at the former employer.
Don't encourage any former competitor's employee to engage in any solicitation or any other activity that could benefit or be "spun" to have benefited your company before the employee physically resigns and is no longer employed by your competitor.
Avoid any conduct, e-mail communications and/or promotional/marketing plans or projects that suggest that you, as the new employer, intend to target customers of the former employer, particularly those who may have worked with and/or been serviced by the applicant.
Keep the e-mail traffic clean: avoid any e-mails (or other electronic documents) that might imply or be read out-of-context as inflaming, disparaging or reflecting any intent to harm the former employer.
Recruiting or even employing new employees from competitors is laden with inherent risk. Employers can minimize that risk by following basic protocol. While many aspects of hiring new employees from competitors are beyond what I have touched on in this article (e.g., what to do if you learn of post-employment covenants, how to handle former employer legal communications, etc.), employer should consult counsel. The tangled web that can be created by what is perceived to be a harmless defection of even one employee can create significant legal problems and lead directly to the courthouse. As the old adage goes, an ounce of prevention is worth a pound of cure! I would be happy to discuss this topic in more detail with any interested distributors.
For more information on this topic, contact Fred at [email protected] or 312-840-7004.