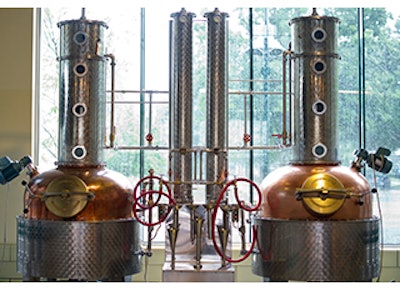 This article originally appeared in Food Manufacturing's March/April 2015 print issue.
The most difficult aspect of opening Griffin Claw Brewing Company wasn't building the 12,000-square-foot taproom and production facility. Nor was it purchasing and installing all of the equipment used to produce its craft beer and spirits.
"Building a brewery is easy. Naming the damn thing is hard," Griffin Claw Brewmaster and Director of Operations Dan Rogers said with a laugh while sitting in the taproom of the Birmingham, Mich. facility in late January. "You Google it, and it's already taken if you thought of something cool. I was with the owner one day, and I was telling him I was at a neat brewery. It's kind of named after a brewery in Germany."
While the inspiration for Griffin Claw's name comes from overseas, the inspiration for its beers, spirits and operation has a profoundly local flavor in the form of Rogers, a Michigan native who returned to his home state in 1998 after several years working in Las Vegas — including a stint as the brewmaster at that city's first brew pub, The Holy Cow Casino and Brewery.
"I lived out west for 10-15 years and then moved back. I had gotten married and had kids and I didn't want to raise them in Vegas, so I moved back to Michigan," Rogers said. "I had a job offer at another brewery near Lansing. ... We took that, and moved back here. I moved on from there to Big Rock (Chop House in Birmingham), when the brewer from there left. Now we're here.
"I convinced the (Big Rock) owners, let's do a bigger brewery. Those two awards up there helped — World Beer Cup Gold and Silver award in 2010 for the IPA and the double IPA, that kind of was the start of all this. ... I just talked to (ownership) and we crunched the numbers and they said, 'Let's do it. Let's build it.'
"And here we are."
Griffin Claw, which opened in July of 2013, uses about 85 percent of its 12,000-square-foot building on South Eton Street for production and storage of its beer and spirits. The rest of the space is devoted to a tap room, restaurant and biergarten.
"We started brewing probably a month before (opening) to get everything ready," Rogers said. "We built this all from the ground up. ... We were right down the street at Big Rock, we had the brewery there, a smaller one. We sold all that equipment. This is all brand new because (the old equipment) wasn't big enough to produce all this volume."
That volume includes a wide variety of beers — 16 were on tap in late January, including their flagship Norm's Raggedy Ass IPA. Among others were: Mr. Blue Sky wheat, Grand Trunk Pilsner, Norm's Gateway session IPA, Grind Line Pale Ale, Go Figure Black IPA, Bourbon Imperial Pumpkin, Me So Ornery Combative Quad, Wicked WIth Sour Witbier, El Rojo Red Ale, Ob.Liv.I.Ous Wheat Wine, Cherry Bourbon Stout, Coffee Bourbon Stout, 2014 Flying Buffalo Bourbon Imperial Stout and Flanders Red Rock.
"People like the variety," Rogers said. "I like to keep a nice spectrum of beer on tap from real light beers — I call them training wheel beers — because some people don't like a really hoppy beer. So I have a nice mild lager and then a nice pale ale. Then we have a very hoppy IPA and then some stouts and sour beers. You should be able to find something you like. We've also made hard cider and things like that."
Griffin Claw produces half-barrels, quarter-barrels, bottles and cans, and its beers are available at approximately 1,200 retailers, bars and restaurants throughout Michigan.
"I think people like drinking local. They like the beer that's made local. I've seen that happen here in this state," Rogers said. "People want local. That's why we're staying in Michigan right now. We're not looking to any other states yet. Local is key."
Griffin Claw currently has four year-round beers — El Rojo Red Ale, Grind Line Pale Ale, Norm's Raggedy Ass IPA and Grand Trunk Pilsner — with a fifth on the way this summer in the form of a Platinum Blonde. The rest of the varieties come and go depending on the season. "I'll follow seasonal trends," Rogers said. "Pumpkin in the fall, a heartier beer in the winter. And then in the spring and summer you lighten them up a bit."
Griffin Claw's spirits selection includes two award-winning vodkas — a gold medal winner at the 2015 American Craft Spirit Association's trade show that is made from barley and rye, and a bronze medalist from the same show made from 100-percent potato. It also produces a gin that contains a botanical blend of juniper, grapefruit peel, key lime peel, roasted almonds, lemongrass, cinnamon sticks and coriander, along with a molasses rum. Rye Whisky and Bourbon are also being produced and put away to age.
"(The line of spirits) kind of helped sell this place — to build it — with the owners," Rogers said. "What helped, too, was they really lowered the cost of the distilling license in Michigan and opened that door for everybody. The owner and I were in Germany at a beer trade show there, and there was a guy there selling distilling equipment and we bought some. We got it all rigged up and started distilling. It's been a real hit. It helps to have another little avenue to sell, especially in the tap room where some people might not want beer."
According to Rogers, about 15 percent of Griffin Claw's production serves the tap room. And the tap room likewise serves as a big boost to the brewery, and to the growing Griffin Claw brand. "It really helps. It's really what has made craft brewing explode, especially in Michigan," Rogers said. "It helps the brewery, it helps with that cash flow, it helps with that immediate response from the customers and how they like the beer. It's essential to have."
A Mix Of Tradition, Technology
The slogan attached to Griffin Claw's Twitter feed reads: Brewing World Class Beers with Tradition and Innovative Technology.
Its state-of-the-art facility includes multiple high-volume fermentation tanks, a custom mash filter, two German pot stills, a canning line, a bottling station and a cold storage area that also serves as the company's distribution hub.
Griffin Claw's mash filter, which was made by a company from Belgium named Meura, is unique due its small size. "Bigger breweries have the large ones, and those will hold 20,000 pounds of malt. This holds 1,000 pounds," Rogers said. "It's their new micro size, and we're the first to have that in the U.S. ... We're kind of new as far as testing it out. So far, we love it. It's doing a great job for us."
Rogers said a primary benefit of using a mash filter is the ability to get more extract out of the malt. "The one thing you have to do differently (with a mash filter), compared to a regular brew system where you have a lauter tun, we have to hammer mill the malt to kind of a coarse flour. And then you do the same mashing process, it gets pumped into the mash filter and it compresses it, compacts the grain bed, and then you sparge the water through it and you just get a nice bright, clear wort. Very fast, too, compared to other systems. To do the next batch, it's very fast dropping the (spent) grain out and putting the next batch in. It's a very quick turnaround."
And that quick turnaround is due in large part to the installation of a customized conveyor solution provided by Michigan-based Dynamic Conveyor that efficiently removes spent grain from the mash filter. The solution has helped Griffin Claw save time and increase its output "It made it more efficient and more ergonomic and a little safer," Rogers said. "That definitely sped things up."
Rogers said Griffin Claw utilizes a Gehaltemeter that tests the carbonation and oxygen levels in its beer, and also uses a centrifuge, which allows the beer to be filtered more quickly and efficiently. Rogers said Griffin Claw will soon be installing a high-gravity blending system that will allow the beers to be produced at a higher gravity and contain the precise alcohol and carbonation levels they are looking for.
In terms of production levels, Rogers said output has increased significantly since Griffin Claw opened. At the outset, the brewery was producing two batches of beer a day. But the addition of seven 100-barrel fermentation tanks has resulted in a large increase of cellar capacity. Now, Griffin Claw is brewing between four and six batches of beer a day — which equates to approximately 100 barrels, or 1,000 cases.
And that number is expected to grow. Rogers said Griffin Claw plans to add seven more 100-barrel fermentation tanks this summer. "We're looking to easily triple our production here," Rogers said. "We should hit 36,000 to 40,000 barrels (a year). That's what we're looking for with this equipment."
Griffin Claw, which had six full-time employees when it opened, now has 14 full-time staffers, and Rogers envisions running two shifts a day, six or seven days a week, once those additional tanks and an expanded canning line are installed.
The current canning line accommodates approximately 500 cases a day, and Rogers anticipates being able to can 1,000 cases a day when it is expanded. "(Cans are) going to be our main growth," said Rogers, who added that Griffin Claw is also currently producing 720 bottles a day.
While Griffin Claw has experienced plenty of growth and expansion by this early point of its existence, even more appears to be on the way. Rogers said a larger warehouse operation that would help out in terms of storage and distribution is being considered — Griffin Claw's existing cold storage facility can hold up to 500 kegs and 22 pallets of cans. There are also plans to expand the biergarten and the company's retail line.
It's been a busy first 18 months for Griffin Claw. But the brewery, and the brand, appears well-positioned for success.
"What we will always have is quality. Quality will always sell," Rogers said. "This equipment we're buying, it is all new. And it will ensure shelf-life and good, quality beers."