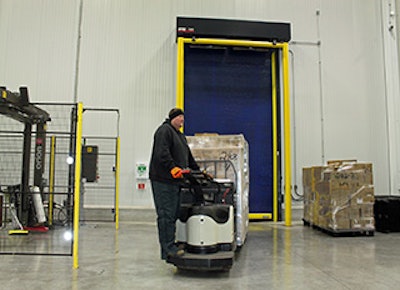 With annual sales of $6.7 billion, Golden State Foods (GSF) is one of the leading diversified suppliers to the Quick Service Restaurant sector, keeping more than 100 customer accounts in over 125,000 restaurants supplied and cooking on three continents.
GSF provides these locations with liquid product, meat product, produce, and dairy processing and distribution, along with other services that make it an important partner in the supply chain for many major names in fast food. The company keeps these demanding customers happy by delivering on-schedule deliveries while protecting product quality throughout the handling process.
To serve more than 460 McDonald's restaurants throughout northern Illinois and Indiana, GSF recently opened a 152,670 square-foot regional headquarters and logistics center in McCook, Ill. The complex is on a 15-acre parcel conveniently located on a transportation corridor in the near west Chicago suburbs and replaces an older facility in the area. Ware Malcomb Architects, with McShane Construction overseeing the project, designed this sizable build-to-suit facility.
To handle the large volume of product flowing this facility, their freezer storage room is equipped with six high-speed insulated doors and are accessed in the fresh food cooler via three self-repairing high-speed doors.
More than the typical big box distribution facility, the McCook building features a stylish, contemporary design and consists of a two-story, 17,550 square-foot office component with a 135,120 square-foot warehouse/distribution space. The company maximizes this building footprint by taking the ceiling height to 40 feet and by setting up a cross-dock, flow-through handling pattern.
The distribution space breaks out to 54,000 square feet of dry storage. The building's cascade refrigeration system maintains 14,040 square feet of cooler space at 34°F and 23,400 square feet of freezer storage at -5°F to handle the bulk of the QSR offerings which include meat, fries, produce and, more recently, coffee drinks. This all passes through the building across 28,080 square feet of cooler dock staging at 34°F.
Thanks in part to the 40-foot high ceiling enabling racks five levels high, storage capacity here is triple that of their 40-year-old operation at Lemont, Ill, 40 miles to the west. Masts at 15 feet high on their forklifts reach the highest shelves, and each of the Rytec high-traffic doors have 16-foot tall panels to handle this traffic.
The ceiling height offers the GSF Chicago operation both benefits and challenges. The high-rise storage shortens the aisles to make their cross-dock approach even more efficient for product access.
Nevertheless, compacting the footprint means less wall space for cutting doorways into the walls, which is why the facility has just three doors going into and three going out of this high-volume freezer. With traffic streaming in and out of the building through 47 dock doors, losing a single high-traffic door would severely jeopardize these deliveries.
Based on its volume, this 24/7 operation generates 10,000 to 15,000 cycles per month. Inventory for each account cycles every six days. In the cooler, turns happen twice a day. In the freezer, inventory turns every day-and-a-half.
"If the door is down, or won't come down, that could be detrimental to our operation," says warehouse manager Jamie Marines. "We cannot afford to lose an opening."
Marines points out that if one door becomes disabled they lose 30% of their shipping capacity. Distribution centers are hard on a lot of their equipment. Traffic doors take a large part of the abuse.
In an operation this busy, door speed is key to product flow and avoiding forklift/door collisions. For both door styles operating at a rapid speed of over 100 inches per second, the 16-foot door panels open fully in less than two seconds. With the high number of cycles in this operation and the 24°F temperature differential between the freezer and docks, the door's high speed significantly reduces cold air infiltration.
Fast door speed also makes panel collisions with the tall-mast forklifts almost impossible. But if a collision were to occur, the self-repairing system is on both door styles. Many high-speed doors can automatically reset the panel back into its guide and instantly restore door operation without human intervention.
The Chicago operation is one of the few LEED Gold certified distribution centers in the country, and this certification fits with the company's program to reduce carbon emissions and minimize energy, water consumption and waste.
The high-performance doors contribute to GSF's sustainability mission. Marines acknowledges that these doors help maintain temperatures in the low-temp areas to protect product quality; in doing so, they use less energy overall.
The panel provides a non-porous, moisture-proof barrier for uniform performance. It teams up with the total thermal barriers that are in the header, side columns, and bottom bar to minimize conductive thermal energy transference. Seals around all four sides prevents cold air escape when the doors are closed.
The high-performance doors' high speed and the tight, full-perimeter seal minimize air infiltration, while the insulated door's thick panel reduces heat transmission. This combination helps the facility save 40% of its energy usage, reduce operating time on its refrigeration system and ensure the system's health well into the building's planned 30-40 year life span.