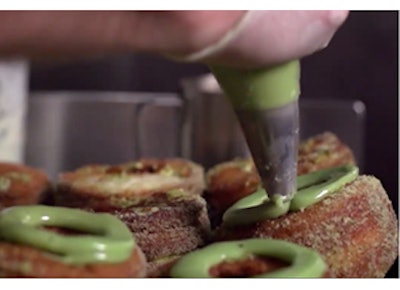 From 'cronuts' to 'townies', traditional sweet treats are getting a modern makeover thanks to strong consumer interest in innovative eating experiences.
Creating a new textural story for this growing range of hybrid bakery products is key to their success. Jo Smewing, business director at Stable Micro Systems, looks at which texture analysis techniques are taking the lead. 
The Drama Unfolds
The hybrid bakery trend began in New York when French pastry chef, Dominique Ansel, launched the now infamous 'cronut' croissant-doughnut cross. So exclusive was the concept, it made headline news; sparking overnight queues at the bakery and a black market trade where samples reportedly changed hands for US$100 each. Since then, bakers have become increasingly creative in order to emulate this success, capture the imagination of adventurous consumers and gain the all-important competitive edge.
A steady stream of bakery launches has appeared which merge longstanding favorites into something new. The 'duffin', for example, brings together a doughnut and a muffin, the 'townie' is a tart-brownie cross, while the 'brookie' - which blends a brownie with a cookie - was given a huge boost following its endorsement by famous American lifestyle guru Martha Stewart. The category has also seen the arrival of the love child of an Oreo cookie and croissant known as the 'crookie', the muffin plus waffle 'muffle,' and even the 'macanut' macaroon-doughnut fusion.
In fact, such is the positive reception of these new products that what began as an idea by one individual in an independent bakery has edged into the mainstream market, with some products adopted by larger retailers. UK bakery chain Greggs paid the ultimate compliment to Ansel when it launched its imitator 'Greggsnut' and UK multiple Waitrose fueled the trend with its 'yumdough' icing-topped, layered dough concept with fondant filled pockets. Interestingly, the popularity of the 'duffin' meant it again hit the headlines when the name was controversially trademarked by a Starbucks UK supplier, despite London bakery Bea's of Bloomsbury claiming to have produced a very similar product for the past couple of years.
New Textures
As with any new formulation, each hybrid product must establish clear parameters for its desired textural properties. Most major bakeries do have texture analysis equipment installed in quality control departments, but these standard tests must be reviewed and often new measurement methods adopted to ensure consistent production and quality control. So which texture analysis techniques are proving effective for this growing hybrid category?
Townie Testing
To successfully cross a tart and a brownie, key textural characteristics from each must be successfully replicated and integrated to ensure consumer acceptance. The recommended texture analysis method is to place the three test samples on a holed plate and use an extended 2mm cylinder probe to penetrate through the entire structure; so capturing all the detail of its surface, internal and base structure. Each tells a completely different textural story:
Brownie: possessing a relatively homogenous structure, the brownie displays a relatively smooth curve highlighting product uniformity and lack of complexity.
Jam tart: registering very little force as the probe penetrates the soft jam but increasing significantly as it hits the crisp pastry base.
Townie: the force increases sharply as the probe breaks through its unique crispy surface, before imitating the characteristics of its co-creators; the smooth curve of its internal structure replicates that of the soft brownie and the increase in force of the pastry base reflects its jam tart parent.
Duffin Development
Taking inspiration from a doughnut and muffin, the duffin must have clearly defined textural characteristics which echo its heritage. By using a spherical probe to imitate pushing a finger a small way into the product, performance in terms of both firmness and springiness (ability to recover its shape) can be analyzed.  
Known as the stress relaxation test, this approach can be used to assess the duffin's:
Firmness: measured as maximum force (g)
Springiness: its ability to recover while holding the probe at a set compression distance for a period of 30 seconds. Calculated as a percentage by dividing the relaxed force (after 30 seconds) by the maximum force, the benchmark of a perfect spring is 100%.
The doughnut has the softest (least firm) texture, but also has the lowest ability to recover (least springy). On the other hand, the required texture of the duffin (courtesy of Bea's of Bloomsbury), in terms of both firmness and springiness is most similar to that of the chosen tested muffin.  
Crodough Credentials
When creating a 'crodough' - croissant-doughnut hybrid - the most effective texture analysis approach is to use an extended craft knife to perform a cutting test designed to imitate biting through the product. Due to its thin, sharp blade, this knife is able to cut cleanly through delicate structures and so provide details of the laminated structures found in these three bakery products. The results of this test show the 'crodough' to be a perfect fusion of both parents.
Croissant: the craft knife highlights the multiple layer fractures encountered as it cuts - represented by a jagged curve - which would be perceived in the mouth as crispness and flakiness.
Doughnut: the curve shows a much lower force to cut and relatively uneventful force profile; highlighting its softer and more uniform texture.
Crodough: the curve does not possess the jagged profile of a croissant and so lacks the perceived crispness (corresponding to its less laminated structure), thus establishing it is firmer than a doughnut but softer than a croissant.
Future Fusions
The trend for sweet bakery fusions is expected to continue well into 2015 as forward-thinking bakers reinvent well-loved classics and profit from the hybrid bakery boom. The possibilities are seemingly endless with the potential for the 'freckle' - a marriage of fruit scone and Eccles cake. Or even a whoopee pie and brioche 'whoopieoche' combination. For now, though, the opportunity for bakeries to establish a real point of difference seems to be simply a question of having endless imagination, a flair for flavors and the ability to consistently create enticing textures.
Stable Micro Systems is a leading designer and manufacturer of texture analysis equipment. These instruments are already used in laboratories worldwide for testing in food, packaging, pharmaceuticals, personal care, paints and coatings and other manufacturing industries.