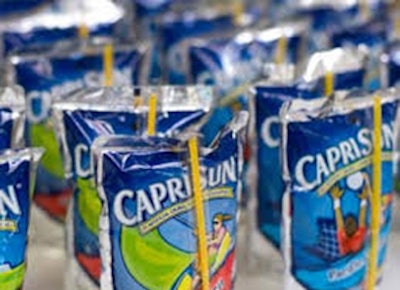 Popular drink maker Capri Sun announced earlier this year that it would start sweetening its drinks with sugar instead of high-fructose corn syrup.
That change was just one of several the company recently introduced. In addition to removing high fructose corn syrup from all products, Capri Sun has reformulated its product to use fewer ingredients, updated its trademark pouch and box packaging design, and launched a new advertising campaign. Food Manufacturing recently had the opportunity to conduct a Q&A via email with Gregg Horvat, Senior Brand Manager, Capri Sun, to discuss the recent changes.
Q: Why did Capri Sun decide to remove high fructose corn syrup from all of its products?
We've been listening to moms and dads from the beginning by making juice drinks with no artificial colors, flavors or preservatives, by delivering a pouch with a clear bottom, and most recently, by investing in and delivering the ingredients the ingredients they desire most. Moms and dads tell us they want to feel good about what they give their children to eat and drink, and that they're increasingly interested in health and wellness trends and simpler ingredients. Thus, we've implemented a comprehensive brand renovation, including replacing high fructose corn syrup (HFCS) with sugar in Capri Sun original juice drinks and Roarin' Waters flavored water beverage.
Q: Capri Sun has a new product formulation that includes fewer ingredients. What was the reasoning behind the new approach to formulation, and what is important to note about the new formula?
As a leader in kids' beverages, Capri Sun continues to innovate to bring our consumers the products and benefits they want, including drinks with simpler ingredients. The ingredient line for Capri Sun original juice drinks now reads: filtered water, sugar, juice, citric acid and natural flavor.
Q: What are some of the new nutritional benefits to Capri Sun?
Capri Sun original juice drinks:
replaced HFCS with sugar
went from 60 to 50 calories per pouch; new product contains 35% less sugar than other leading juice drinks
taking over 25 billion calories out of the marketplace annually
Capri Sun Roarin' Waters:
replaced sucralose with stevia leaf extract and HFCS with sugar
now naturally-sweetened
Capri Sun Super V Fruit and Vegetable juice drinks:
one combined serving of fruit and vegetables per pouch
good source of fiber
Capri Sun 100% Juice:
one and a half servings of fruit in each pouch
Q: Capri Sun has an updated pouch and box packaging design. What changes were made in that regard? And did the new packaging (i.e. making Capri Sun with a clear bottom) change across the board globally?
We improved our packaging at-shelf with a new design identity to reinforce our message, product benefits and equity credentials across the entire Capri Sun portfolio, making it easier for moms to shop and find the specific product that best meets her family's needs. These changes are for the U.S. market only.
Q: How did the pouch's material specification change?
The pouch did not change as part of this year's renovation, but we did update the graphics as part of our new Design Identity. As you may recall, however, we updated our pouches in early 2014 with a clear bottom so consumers could see the goodness of no artificial colors, flavors or preservatives.
Q: Can you tell me a little bit more about Capri Sun's new advertising campaign?
Moms have been telling us they wish their kids would get outside and play more, much like she did when she was a kid. So, Push Play, our new creative platform, champions active play by encouraging moms and kids to take "play" to the next level. Launched in April, our television, print and digital ads encourage unstructured and unscheduled play, allowing kids to be creative, spontaneous and most importantly, to have fun.