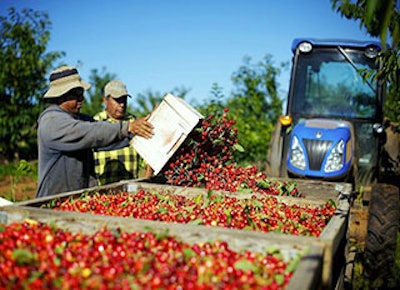 To an out-of-state visitor, the rolling hills of Oregon's Willamette Valley are simply a beauty to the eye. But nestled along the Columbia River Gorge lies an abundance of orchards, where the marriage of warm days and cool nights produces a delectable treat: fresh cherries.
Starting out with only 700 rootings, Oregon Cherry Growers has since evolved across generations of dedicated growers into a worldwide supplier of sweet cherries. In fact, with more than 60 family growers in its co-op, OCG proudly wears the title of the largest processor of sweet cherries in all of North America — with Chelan, Sweetheart and Bing as just a few of the 21 varieties grown.
OCG has three facilities; two in The Dalles and one in Salem. The downtown facility does the pitting and the vacuum pan ice cream cherry, while the Riverside facility is primarily used for infusion, drying and freezing. The Salem processing plant is responsible for the co-op's maraschino, glacé, and some ice cream ingredient cherries. And with its approximate 450 workers, OCG is the second-largest employer in The Dalles.
With a name like Oregon Cherry Growers, though, customers may be quick to assume that only cherries are produced — but families of the co-op also grow blueberries, blackberries, strawberries, marionberries, raspberries, saskatoons, and even some vegetables like sweet potatoes, rhubarb and squash.
A Rich History
Oregon Cherry Growers was founded in 1984 as a result of two merging cooperatives — The Dalles Cherry Growers and Willamette Valley Cherry Growers.
While OCG is a part of the Northwest Cherry Growers, its orchards are all located throughout the Willamette Valley — the phenomenal fertile grounds between Portland and Eugene, Ore.
The Northwest Cherry Growers region runs East of Portland into The Dalles, following along tightly to the Columbia River Gorge, and then up into Washington.
"We've got two very different growing regions; which is ideal," Dan Ostlund, director of business development, said.
While there is no average time of harvest, the season generally runs between June and August, according to OCG VP of Sales and Marketing Kent Spalding.
Ostlund said the interesting thing about OCG is it tends to be more independent family farms as opposed to big corporations. "A lot of farming has become a corporation and generation to generation farming has gone away. But that doesn't seem to be the case with cherries," he said.
The company finds great success in being a co-op, as it works to represent each farm individually, bringing through their pride, identity and ownership of the company.
"We [OCG] really do work for them. The growers. And they really do feel like that," Spalding said. "They are the DNA of our company. What the wiring is inside."
OCG's field services groups are constantly going out to the farms to check the orchards; trying to figure out what the season will hold. "We start to look at what cherries can go into our fresh market versus what will go into our freeze market," Spalding said.
Spalding added that there are many advantages of being a part of its co-op, as OCG brings support to the growers through field services. The company teams up with various universities, like Washington State University and Oregon State University, to give the grower families the latest and greatest on pesticide management, pruning techniques, etc.
And it is with the aforementioned partnership with Oregon State University that OCG pioneered the modern day maraschino cherry.
With big-name customers like McDonald's, U.S. Foods and Sysco, the co-op takes pride in being the largest supplier of maraschino cherries to the foodservice arena. Its foodservice segments include restaurants, distributors, healthcare, cash and carry, bars and nightclubs, K-12 schools, universities and military.
While also dipping its toes in the respective retail and export markets, OCG's other main distribution channel is the ingredients sector.
With its 21 varieties of cherries, it's no surprise that OCG is also the largest supplier for ice cream ingredients. Its customers include Ben & Jerry's, Dreyer's, Breyers and Blue Bell, just to name a few. "You pretty much name the brand and we are the primary supplier for that," Spalding said.
Oregon Cherry Growers' ingredients can be found in consumer products like ice cream, dairy, bakery, cereal, and baked and slab bars.
As for its retail line, the company has been strategically focusing on expanding that market. "Through history, our business has been primarily focused on the foodservice side and the industrial ingredient side," Spalding said. "So now what we have done is, we took a look at maraschinos on the retail side and really started to ask some kind of consumer-facing questions."
From fruit preps and purees, to maraschinos, to its new Royal Harvest line of cherries, blueberries, strawberries and other dried fruits, OCG offers an array of fruit products made with high-quality ingredients.
Made with all-natural, non-GMO ingredients and Fairtrade cane sugar, its Royal Harvest line of premium dried fruits have become a favorite among health conscious consumers.
The line of ready-to-eat dried fruits drew praise at the 2014 Oregon Manufacturing Awards ceremony last fall with OCG receiving the Product Innovation of the Year award. The Royal Harvest line was recognized for its proprietary drying process, which helps to protect the natural sweetness of the fruit, as well as maintain the moisture and texture content.
OCG President and CEO Tim Ramsey said the company saw an opportunity to grow, so it started a new product line to help fill that gap. "The dried fruit segment of the food industry is a $50 million business annually and it was a significant opportunity for us," Ramsey said.
He also added that the co-op is continually looking for new ways to deliver a high-value return to its family growers.
So far, the Royal Harvest fruit has seen a strong response from bakeries, chefs and other food professionals looking to include the fruits in their own products. But developing new products is just one way that Oregon Cherry Growers is meeting the demands of a changing food industry.
In a typical grocery store today, you will find a jar of maraschino cherries that holds around 20-25 cherries. But after the team did some research, OCG concluded that consumer usage is really only about 6-10 cherries. After some probing, OCG found that the average consumer keeps maraschino cherries in their refrigerator for one, two and even upwards of three years.
Spalding added that the positioning of maraschino cherries in the grocery market is over in the canned fruit aisle, so it's not really located where all the usage occurs. "If you're making an ice cream sundae or want to use it in baking or you want to use it to make your Manhattan drink, you have to work pretty hard to find it in the grocery store."
A New Age
It was those findings that led the company to unveil its latest innovations — this time in packaging. The new, convenient pouch-style packages are the first of their kind and have already received the National Restaurant Association FABI Award this past March. Spalding said they wanted a solution that was not only beneficial to the consumer, but also to the retailer.
"That's when we came up with the idea of putting maraschinos in pouches," Spalding said. "So what you can do is you can peg them, you can clip-strip them, etc. In a retail environment, that shelf-space is very precious, so they're constantly looking to say 'Okay, what's the best return and what fits the consumer need?'"
Spalding said the pouches allow retailers the opportunity to sell something that perhaps they weren't going to before. With two different size pouches, an 8-count and a 16-count, the company sees the pouches as a way to match packaging in a delivery vehicle with consumption patterns.
OCG has also recently introduced new packaging on the distributor side of its business. The company began to look at the interaction bartenders have with cherries and found that the current usage of gallon and half-gallon containers was a sugary, sticky mess — leaving bartenders with the option to either spoon the cherries out or use a glove to grab them by hand.
With time and speed being the two most important factors for bartenders, OCG decided to improve upon this. "We can provide a value to these folks that allows them to do their jobs more efficiently,"
Spalding said. "We can solve sanitary issues and ultimately save them some money on operating costs by not having to refrigerate giant gallons of cherries."
The solution? Cherries in a pouch. With a notch that allows bartenders to tear it open and dump the cherries into a bar tray, OCG has answered the sticky mess. The pouched cherries still go through the same safety mechanisms, such as pasteurization and handling, but it now allows bartenders the opportunity to grab cherries quickly. Spalding said the response so far has been "phenomenal" as the bartenders realize the convenience of the new method.
"We're pretty excited about this because it's two pieces of innovation mostly around packaging, but it's in an industry that hasn't innovated for over 80 years," Ostlund said. "It's an opportunity for us to really do things better than they have been doing in the past."
Rising to the Challenge
With its history deeply rooted in manual labor, the majority of the growers still pick their crops by hand. And with 10,000-12,000 tons of cherries going into the fresh market every year, that puts a lot of strain on the co-op.
Ostlund said the PNW cherry growers is still very much a part of a labor-intensive process, but the industry is starting to shift. Currently, the cherries (and other fruits) are both picked and sorted by hand. And as anyone in the cherry business can tell you, cherries selected for the fresh market must be flawless.
OCG has begun to improve its sorting techniques in its fresh lines by the addition of its automated optical sorting machines. The technology is able to more precisely sort the cherries, specifically by size and defects, allowing for a better payment to the grower. Ostlund said there is a much smaller chance for missorting with machines, compared to manual labor.
While electronic sorters that accurately size and sort for internal and external defects have been available for round fruits like apples, citrus and kiwis for many years, it's new to the cherry industry. The hold up, of course, was the stem. It was difficult to manipulate the stem so that cameras could see all sides of the fruit, but the new computerized sorting technology uses infrared or high-resolution cameras to take multiple pictures of a single fruit.
"With people sorting, they missort some or you don't get the right size," Ostlund said. "But with sorters, they get the exact size that's the larger size that can go to a perfect market like export, they'll get a higher dollar for that. And they're going to get more cherries because they're not missorting out anything."
He added that from a processing standpoint, new equipment can help to cut down on overhead. The sorters are expected to change the dynamics of the cherry industry, something Ostlund said is needed in order to keep up.
And this year, the technology came in handy as OCG experienced a smaller 2014 crop due to freeze damage. Temperatures crashed as much as 60 degrees in just a few days in mid-November, killing 1-, 2- and even 3-year-old wood in cherry trees. It affected growers differently, depending on their location. While Salem and other parts of the Willamette Valley escaped much of the damage, many growers in The Dalles region were hurt by the colder weather. Having the optical sorters in place allowed for growers to save any cherries in a timely fashion.
"Anytime you're working with Mother Nature, you just never know the outcomes," Ostlund said. "I mean we could have just an absolutely perfect growing winter, delightful spring and then at the last minute when the cherries are forming on the trees, there could be a problem."
As for its plans for the future, Ostlund added that the current processing facilities are still meeting the demands of the more than 44 million pounds of cherries processed annually. "We are revamping the downtown facility to accept fresh cherries in and really sort them for our whole freeze market. So we have brand new equipment there, too. So we are taking our existing buildings and just upgrading them," Ostlund said.