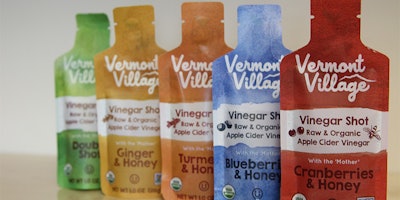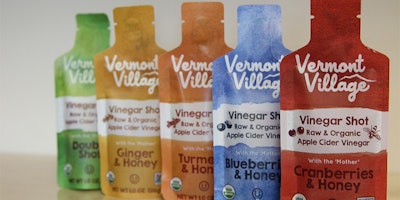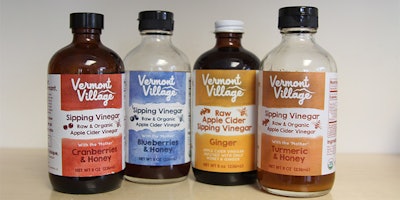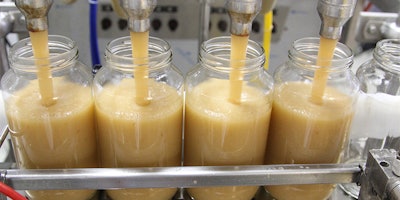 If you would have asked the folks at Vermont Village a few years ago if vinegar would one day become its biggest product, they wouldn't have believed it. But after just two years in the market, apple cider vinegar is now what the Barre, Vermont company is all about.
Vermont Village got its start by kettle-cooking organic apples into applesauce in 1977. But its recent pivot to apple cider vinegar is right in line with one of today's hottest foodie trends. As word has spread about the many health benefits of drinking apple cider vinegar, more consumers are making the drink a part of their daily routine.
Rather than just jumping on the apple cider vinegar bandwagon, Vermont Village has become a pioneer in the market, creating new ways to consume the beverage. The company not only offers straight-up apple cider vinegar, they also have "drinking vinegar," (which comes in 14-ounce bottles and several flavors that taste like a zingy juice); a line of "sipping vinegars" that come in flavors like "ginger and honey" and are meant to be used for cooking or on salads; and a new line of "vinegar shots," that come in 1-ounce pouches.
These vinegar products have earned the company nominations for innovation awards at recent trade shows, and have helped Vermont Village expand its reach into a market that has long been dominated by one brand.
The leap has paid off and propelled the company into a state of rapid growth. Between 2016 and late-2017, sales are up by 50 percent. Vermont Village is also adding large retail partners at a rapid clip, including Walmart, where its line of sipping vinegars will soon be sold. The company employs 35-45 workers and Andrew Lawrence, the company's brand manager, says it is now always hiring.
Even though vinegar now accounts for more than half of the company's production, Vermont Village has maintained its position in the applesauce market, and has plans for that segment of its business, too. On the day I visited, Lawrence showed off a large jar of premixed applesauce and oats that the company has in development and plans to unveil soon. Vermont Village is also working with Runamok Maple to revamp its maple-flavored applesauce.
But Lawrence sees the most growth potential in the apple cider vinegar market, where Vermont Village hopes to become the next big thing in healthy drinks.