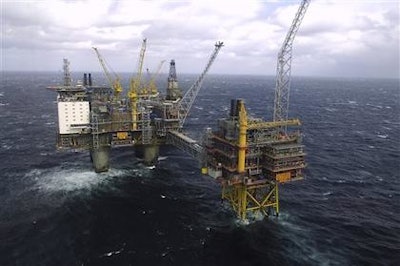 STAVANGER, Norway (AP) — Losing his job on a Norwegian oil rig meant more to Kristoffer Sandberg than saying goodbye to a high salary. It has caused a shift down in lifestyle and expectations, something an increasing number of people in this small oil-rich country are facing.
After a decade of an oil and gas boom, plunging energy prices are shaking the Norwegians out of a Utopia
n reverie that guaranteed workers lengthy summer vacations, generous health and social benefits and allowed them to leave work at 4 p.m. and even earlier on Fridays.
Some of the helicopters that transport workers from Stavanger — the epicenter of the oil industry — to the platforms on the North Sea have fallen silent. Already 10,000 workers have been laid off. It's the start of what economists are predicting will be a long recession in the energy industry, which accounts for 15 percent of the economy, more than half of exports and 80 percent of the state's income.
The Nordic country is being forced to contemplate a future without the certainties of the past.
"I know that people are envious of these conditions elsewhere in the world. We joke about it sometimes," says Sandberg, a 24-year-old mechanic. "But I don't know how many more people will lose their jobs or how much longer it will be uncertain like this."
Sandberg is selling his new S-Class Mercedes and moving to Singapore to help oversee the construction of a new giant oil rig, in the hope of retaining even a bit of his old lifestyle. But he'll have to work longer hours and won't be rewarded with the four week breaks for every two weeks of labor enjoyed by offshore workers here.
Sandberg still feels being born in Norway was like winning the lottery but agrees that the regular, annual ratcheting up of wages was unsustainable.
Last year, the state-run oil and gas company Statoil revealed it paid an average annual salary of 1 million kroner ($130,000) to its 23,000 employees.
Knut Sunde, director of industrial policy at the employers' organization Norsk Industri, says the shake-up for Norwegian workers used to the rewards will be painful, but welcomes the reality check.
"The average Norwegian has just gotten too much. We have a welfare economy and an expectation from youth who expect wealth to come down from heaven," Sunde said. "When we come down to periods like this it comes down to good old values of working hard and competing. A country like Norway needs to go through that."
The barrel price of Brent crude, an international variety of oil, has tumbled from a steady three-year average of around $110 to below $60. At that price more than half the offshore fields being developed along the Norwegian continental shelf are uneconomical.
Rig owners, used to renting their fleets of steel behemoths to eager drillers for more than $400,000 a day, are about to release a glut of speculatively built new models even as the explorers are losing their pioneering spirit. Rigs are idling in west coast ports. More layoffs are expected as companies like Statoil prepare to cut back on spending.
The energy sector's dominance in the Norwegian economy means its troubles will cast a pall over the wider economy. The layoffs will likely hurt the restaurant and hotel sector, for example, as fewer business trips are made throughout the country.
One big positive is that the country saved up a massive $860 billion from oil exports during the good years to protect it against having to make sharp and traumatic cuts to welfare spending. By law, the government is not allowed to spend more than four percent of that money annually, and in practice uses up only the interest.
So for those Norwegians left with jobs, there is no imminent end to the welfare perks like five weeks of annual paid holiday, the highest sickness benefits in the world and shorter working hours than elsewhere.
Rather, it is a question of whether future generations will suffer a shift down in living standards.
Hilde Opoku, the spokesperson for the Green Party, says Norwegians are still blind to the coming change.
"It won't happen overnight, but when we wake up from this oil bubble, we will realize we will never have a fairytale like this again."