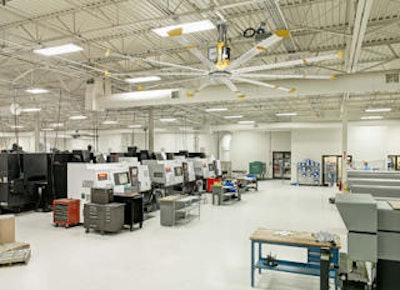 Machinists at Memphis-based Engineered Medical Systems (EMS) were working up a sweat carving and shaping bars of steel into lifesaving surgical equipment.
"If you've ever been to Memphis, you know it gets really hot here with really high humidity," said EMS Controller Charles Stanford. "You sweat walking out to the mailbox. And that heat lasts for a long stretch of time."
The 60 machines in EMS' shop venting air at 110 F didn't make it any easier to keep the facility cool. "Complaints were just a daily event around here, and it was understandable," continued Stanford.
EMS had to run its 125 tons of air conditioning year-round just to keep shop conditions somewhat tolerable. With the AC running nonstop, summer indoor temperatures hovered around 85° F, while winter indoor temperatures remained around 80° F.
Furthermore, stocking up on pre-made supplies and slowing operations in the summer months was not an option. "Everything we do is made to order," said Stanford. "We don't carry any inventory, and we don't make anything if we don't have an order for that instrument."