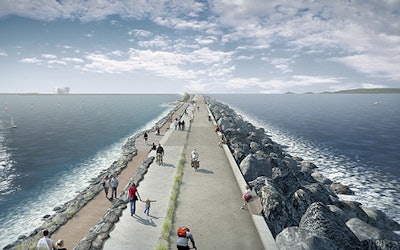 Britain's coast is way more than cold beaches and crisp-stealing seagulls. It also boasts some of the highest tidal ranges in the world, measuring between 23 to 40 feet. Twice a day, like clockwork, the moon's gravity makes the seas ebb and flow. All that moving water is also a huge reservoir of reliable, renewable, and carbon-free electricity.
That's why the country plans to build the world's first power generating tidal lagoon in Swansea Bay, off the coast of South Wales. The lagoon will cover over 4.2 square miles (11 square kilometers) – an area three times the size of New York's Central Park.
As the tide flows into and out of the lagoon, it will power giant underwater turbines generating enough power for a whole city - over 155,000 homes. That's equivalent to 90 percent of the area's annual domestic electricity use. And that's just one power station.
Technology, some of it developed by GE, is playing a key role in making the project happen. People have been using hydropower to generate electricity for a long time, but Swansea Bay is different. The lagoon will be able to produce 320MW of electricity only by 16 high-tech turbines.
A more traditional array would require hundreds of stream turbines to obtain the same result. With fewer turbines needed, the facility will be much cheaper to build and to run. The technology is also designed to last, with the plant having an operational life expectancy of 120 years.
GE's Power Conversion unit worked both on the power generation technology and also power transmission the shore. The company's large induction generators and variable speed drives will work in tandem with hydro turbines supplied by Andritz Hydro. The GE technology is already powering other renewable energy applications such as onshore and offshore wind farms, mining, oil and gas installations, and ships. The Royal Navy has also used similar technology inside a number of vessels over the past 10 years.
The project could save over 236,000 tons of C02 each year, and turn tidal energy into a source of low-cost electricity. And that's just the beginning. The team behind Swansea says that future tidal lagoon projects could reach up to 3GW of installed capacity.
For more stories like this, visit GE Reports.