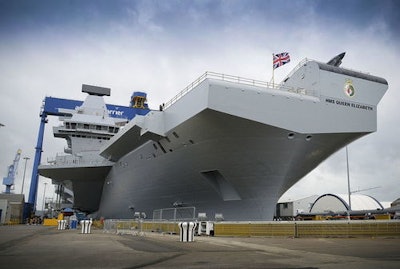 Last fall, the British Royal Navy commissioned a powerful new high-tech frigate so silent that it would be able to sneak up on submarines undetected. The ship, called the Type 26 frigate, has been designated to become "the workhorse" of the British fleet. BAE Systems is building the vessel, but a team of noise and vibration experts from GE used special 3-D software to model the ship's acoustic dynamics and design the whisper-quiet electric motors.
The ship's motors are one example of the advanced naval engineering taking place across GE. The company said today that it would combine the expertise of several GE businesses focused on ships and the sea in a new unit called GE Marine. "We already power, propel and position everything from the most advanced frigates to the largest luxury cruise-liners and the hardest-working vessels for the oil and gas industry," says Joe Mastrangelo, chief executive of GE's Power Conversion business. "GE Marine will help our customer benefit from highly integrated technologically rich solutions for a wide range of marine applications."
GE has a long naval history. Its turbo-electric systems powered the collier USS Jupiter, the U.S. Navy's first electric ship, which launched in 1913. But its maritime businesses boomed with the recent acquisition of Converteam, the century-old French power conversion company that specializes in building heavy-duty systems that transform mechanical motion into electricity. Today, their systems power more than 70 electric cruise ships and dozens of merchant, military and offshore vessels. The flotilla includes the Queen Mary 2 luxury liner, the next-generation stealth destroyer USS Zumwalt, some of the world's largest LNG tankers, and the Francisco, the world's fastest ship.
The new Marine business combines the company's naval prowess with jet engine design, locomotive engines, and oil and gas expertise. "We need smarter, greener marine solutions," said Tim Schweikert, the head of the new GE Marine business, in an opinion piece published by IdeasLab. "It's not enough to boast the fastest engine or the biggest hull on the seas — it's about being able to do more with less energy and a smaller environmental impact."
For example, the business is building powerful propulsion systems that demand less fuel and produce fewer emissions. The U.S. Navy's first hybrid ship, the 800-foot long USS Makin Island, which can carry almost 100 helicopters and 3,000 sailors and marines, is using an electrical and gas propulsion system designed by GE. It saved the Navy more than 4 million gallons of fuel, worth $15 million, during its first seven-month deployment. 
GE Marine will also design dynamic positioning (DP) systems that allow captains to steer a near perfect course on roiling seas, or to stay put exactly in one place. (This comes in handy on a ship drilling a well or supplying an oil platform.)
The DP technology includes a combination of high-tech navigation systems such as GPS, ultrasonic beacons and lasers that feed data to a powerful computer for processing. An array of thrusters and propellers listen to its commands, compensate for ocean current, waves and wind, and keep the ship in the right place. The system will serve on supply vessels that are being built by Brazil's Starnav Serviços Marítimos Ltda.
GE is also helping the marine industry explore the digital world and connect ships to the Industrial Internet. For example, sensors throughout the ship's engine and propulsion system not only work to ensure everything is working properly, but can help with predictive maintenance.
For a sector responsible for transporting 90 percent of the world's goods, the possibilities of realizing just 1 percent reduction in unplanned downtime is wind in its sails.
For more stories like this one, visit GE Reports.