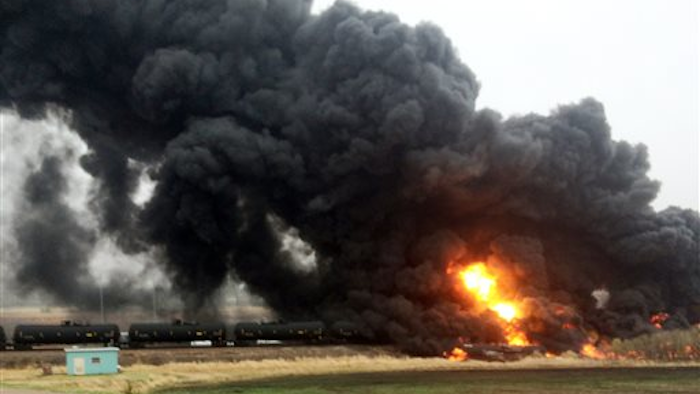 Authorities evacuated a North Dakota town on Wednesday following the latest in a string of fiery accidents involving trains transporting crude oil.

Reports said a BNSF train hauling 107 cars of crude oil and two buffer cars derailed at about 7:30 A.M. near Heimdal and began spewing black smoke into the air. State emergency officials said 10 of the cars caught fire.

No injuries were reported, but residents of the small town and its surrounding area — about 40 people in total — were evacuated as a precaution. Officials said weather conditions prevented immediate dispersal of the smoke, which could pose potential breathing problems.

The explosion is the fifth such crash in North America since February, including derailments in West Virginia, Illinoisand Ontario. Reports indicated 24 derailments occurred since 2006.

Regulators in the U.S. and Canada last week rolled out long-awaited safety standards for trains carrying crude oil. The rules require stronger rail tank cars and electronic braking systems for transporting the most volatile liquids.

Crude oil drilled using hydraulic fracking is considered more unstable than crude from conventional wells, and oil from the Bakken range in North Dakota was involved in an explosion that killed 47 people in Quebec in 2013.

North Dakota implemented new rules for trains carrying crude in April, while senators from six U.S. states last weekasked the federal government to establish a fee for companies that ship oil in older railroad cars.