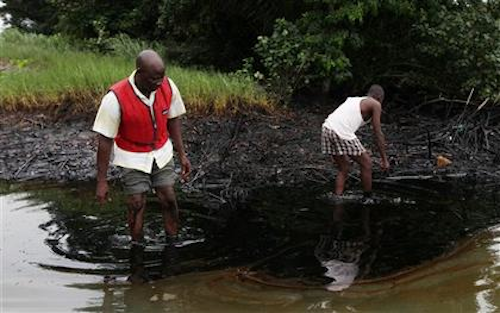 LAGOS, Nigeria (AP) — Twenty years after a Nigerian military regime hanged activist Ken Saro-Wiwa, his Niger Delta homeland remains blighted by oil pollution.
Thousands of lives have been wrecked, according to Amnesty International: oil slicks killed the fish, earth crusted with crude grows stunted crops, lungs are polluted from oil flaring.
Gen. Sani Abacha's regime hanged Saro-Wiwa and seven other Ogoni leaders on trumped-up murder charges. "Judicial murder," charged then-British Premier John Major.
The executions came two years after protesters forced Shell out of Ogoniland, although its pipelines still carry oil.
"It is heartbreakingly tragic," said Amnesty International's Nigeria director M.K. Ibrahim. "The oil spills have not stopped, and Shell has still not cleaned up this huge environmental degradation."
Shell says it is committed to cleaning up the pollution.