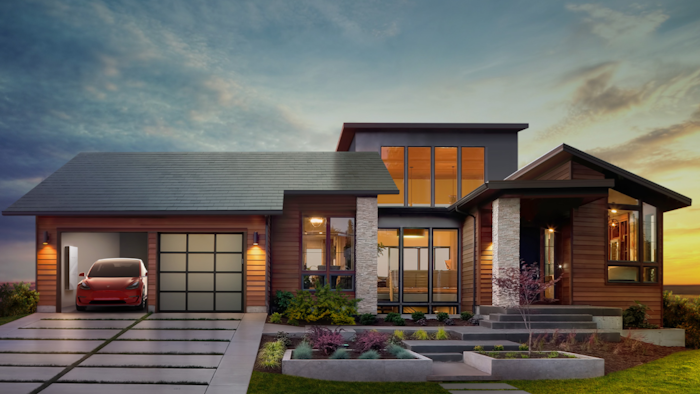 Tesla Motors CEO Elon Musk last week unveiled two new innovations that he believes will be instrumental to revolutionizing the renewable energy ecosystem.
The first was the next generation of the company's Powerwall system, which, Musk said, will be able to store enough energy to power a four-bedroom home's lights, sockets and refrigerator for one day — or, with solar power, "indefinitely."

The second innovation aims to make that source of solar power more practical. Tesla and SolarCity plan to jointly produce rooftop glass tiles with solar cells discreetly embedded within them.
Unlike conventional solar panels that are installed on top of a regular roof, Tesla's tiles will serve as the roof itself. They will be available in four distinct shades — Tuscan, slate and both textured and smooth glass — to accommodate any style home, and, when viewed from the street, will be virtually indistinguishable from traditional roofs.

The company added that the solar cells produce energy even at very high temperatures and that the tiles' tempered glass is impact resistant and extremely durable.

"What we're really looking for here is, 'How do we have a solar roof that is better than a normal roof?'" Musk said at an event to announce the initiative.
 
The company did not disclose a price for the tiles, but said that it would cost less than a conventional roof when energy savings are factored in. The Powerwall 2, meanwhile, will cost $5,500.
Tesla eventually hopes that the solar roofs enable homeowners to power their houses and charge their electric vehicles while sending excess energy to the Powerwall for use when the sun isn't shining.

"The whole purpose of Tesla is to accelerate the advent of sustainable energy," Musk said.

The announcement came just days after Tesla detailed an agreement with Panasonic to produce solar cells at a forthcoming SolarCity facility in Buffalo, N.Y.

Tesla hopes to acquire SolarCity for $2.6 billion to create a "one-stop" shop for solar energy, but the merger must be approved by company shareholders — some of whom have voiced concerns about SolarCity's debt levels and the already close ties between the companies.

Several previous efforts to develop solar shingles — most recently by Dow Chemical — fell short as analysts suggested that conventional solar panels remained more energy-efficient and cost-effective.