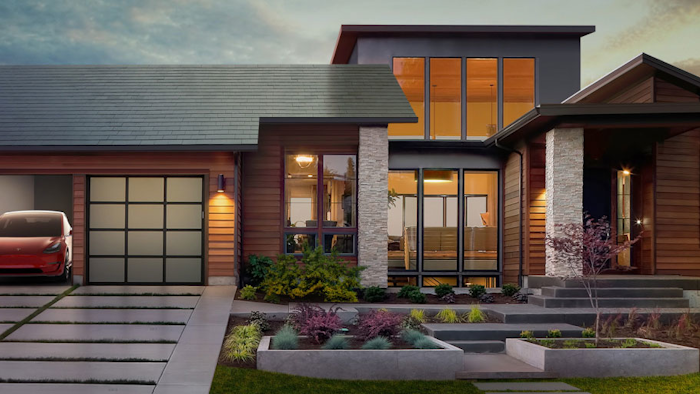 Tesla Motors and SolarCity hope to revolutionize rooftop solar energy generation with their newly announced solar roof glass tiles.

The electric vehicle manufacturer and solar panel installer — who will be combined in a $2.6 billion merger if approved by shareholders — said last week that a rooftop full of the new panels would be less expensive than a traditional roof when energy savings are factored in.

"What we're really looking for here is, 'How do we have a solar roof that is better than a normal roof?'" Tesla CEO Elon Musk said at an event to announce the initiative. "That looks better, lasts longer, has better insulating effect and where the cost of the roof plus electricity is less than that of a normal roof."

Unlike conventional solar panels that are installed on top of a regular roof, the Tesla tiles are built with a solar cell incorporated into the tile to make it virtually invisible from the street.

The company said the solar cells produce energy even at very high temperatures, while the tile's tempered glass is durable and impact resistant. A third layer, a colored film, is available in four shades — Tuscan, slate and both textured and smooth glass — to accommodate any style home.

The company did not disclose a price for the tiles, according to the Associated Press, but the next generation of its Powerwall energy storage system will cost $5,500.

Tesla hopes to combine with SolarCity to create a "one-stop" shop for at-home solar energy generation, and Musk said that an advanced solar roof will eventually power homes, charge electric vehicles and send excess energy to a Powerwall system to store energy for use when the sun isn't shining.

"The whole purpose of Tesla is to accelerate the advent of sustainable energy," Musk said.

The announcement came just days after Tesla detailed an agreement with Panasonic to produce solar cells at a forthcoming SolarCity facility in Buffalo, N.Y.

Some remained critical of the merger between Tesla and SolarCity — particularly given the latter's high debt levels and Musk's involvement in both companies — but Tesla's surprising third quarter profit could allay some shareholder fears about the deal, analysts said last week.