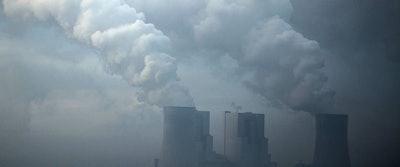 Environmental campaigners on Thursday slammed a proposal to reform the European Union's emissions trading system, saying it undermines international efforts to curb climate change.
The European Commission said the preliminary agreement between the EU Parliament and member states will strengthen the bloc's emissions trading system after 2020 and would put the bloc on track to achieving "a significant part of its commitment" under the Paris Agreement.
Some 195 countries are currently taking part in talks in Germany aimed at implementing the 2015 climate accord.
Environmental group WWF said that while the deal will reduce the oversupply of emissions allowances that had weighed on the market, heavily polluting sectors will continue to get emissions certificates worth billions of euros for free until 2030.
"You couldn't make it up," said Sam Van den Plas, a climate specialist at WWF's European policy office. "While EU negotiators at COP23 in Bonn are making progress on the Paris Agreement, EU decision-makers back in Brussels are busy undermining it."
"Today's shameful agreement ... means Europe's largest emitters will be paid to pollute, rather than having to pay," he added.
The Climate Action Network Europe, an alliance of environmental groups, said the EU deal would throw a lifeline to the continued use of coal, one of the most polluting forms of fossil fuel.
"Instead of making polluters pay, the EU decided to do the exact opposite," said Wendel Trio, the group's director of CAN Europe. "It allowed its flagship climate tool to continue subsidizing coal plants."
Several European countries, especially Germany and Poland, still rely heavily on coal to produce electricity.
On Thursday, former New York City mayor Michael Bloomberg announced he is donating $50 million to encourage countries outside the United States to move away from coal. Bloomberg has already spent $64 million to campaign against the use of coal in America.