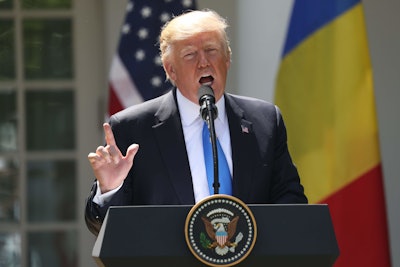 President Donald Trump on Thursday named a former aide to Senate Majority Leader Mitch McConnell as interim leader of the commission that oversees the U.S. power grid.
Trump elevated Neil Chatterjee, McConnell's longtime energy adviser, to head the Federal Energy Regulatory Commission, or FERC, for at least the next few weeks.
The appointment came as Trump resumed his taunts of McConnell, the Senate's top Republican, expressing disbelief that McConnell couldn't persuade a GOP majority to pass a health care bill.
"Can you believe that Mitch McConnell, who has screamed Repeal & Replace for 7 years, couldn't get it done. Must Repeal & Replace ObamaCare!" Trump tweeted Thursday.
Hours later, Trump used Twitter to target McConnell again, nudging him to plunge into issues such as tax reform and infrastructure, even though Congress is on recess until after Labor Day.
On energy, Trump is waiting for the McConnell-led Senate to confirm his nomination of Washington lawyer Kevin McIntyre as FERC chairman. Chatterjee, who was sworn in as a commissioner this week, takes over on an interim basis, replacing Democrat Cheryl LaFleur.
Former Pennsylvania utility regulator Robert Powelson was sworn in Thursday as a FERC member, giving the five-member panel a voting quorum for the first time since February. Without a quorum, the agency has been unable to make decisions on natural gas pipelines and other projects worth billions of dollars.
Trump has promised to boost energy production and exports as part of a bid to establish "energy dominance" for the United States, but the FERC vacancies have hobbled the agency's ability to make decisions.
More than a dozen major projects and utility mergers have been in regulatory limbo for months. The projects include the $2 billion Nexus pipeline in Ohio and Michigan; the $1 billion PennEast pipeline in Pennsylvania and New Jersey; and the $5 billion Atlantic Coast Pipeline in West Virginia, Virginia and North Carolina.