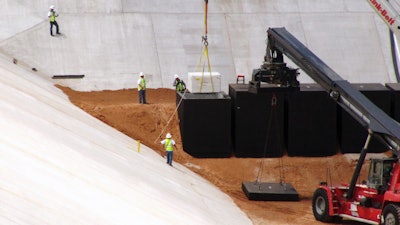 Faulty handling of hazardous materials by the nation's nuclear weapons facilities posed risks to both workers and the public, according to a recent report.

The investigation by the Center for Public Integrity, which cited government documents, identified 25 cases in which weapons contractors improperly shipped or packaged radioactive materials, explosives or other toxic chemicals in the past five years.

Thirteen of those incidents involved plutonium, highly enriched uranium or other radioactive substances.

Some of the cases in question were uncovered through inspections or scientific analyses, while others were only discovered after packages were opened or contaminants released by unsuspecting workers.
"While the materials were not ultimately lost, the documents reveal repeated instances in which hazardous substances vital to making nuclear bombs and their components were mislabeled before shipment," CPI reporter Patrick Malone wrote. "That means those transporting and receiving them were not warned of the safety risks and did not take required precautions to protect themselves or the public."

In addition, four of the incidents occurred in the past three months, including the latest, when the lab in Los Alamos, N.M., shipped packages of plutonium via air rather than by truck, as required by law.

The Los Alamos facility, the nation's largest nuclear weapons lab, was involved in 11 of the 25 violations identified in government documents. The Energy Department halted shipments to the lab for three weeks after the latest lapse, but the investigation found that despite the widespread problems in the past five years, only three contractors received fines over that span.

Los Alamos officials told the publication that those responsible for the shipping violation were "held accountable through actions that include terminations, suspensions and compensation consequences."