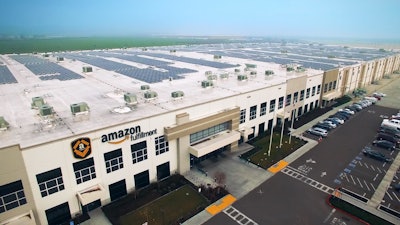 Amazon announced this week that it expects to complete construction of solar energy systems at 15 U.S. warehouses this year — the first of 50 such projects around the world by 2020.

The e-retailer said that the initial systems — located in in California, Delaware, Maryland, Nevada and New Jersey — will generate up to 41 megawatts of power.
In favorable conditions, the panel systems could account for up to 80 percent of an individual warehouse's annual energy needs.

Amazon said that it was the top corporate purchaser of renewable energy in the U.S. last year and that renewable projects announced to date will generate 3.6 million megawatts of energy.

"We are putting our scale and inventive culture to work on sustainability — this is good for the environment, our business and our customers," Senior Vice President of Worldwide Operations Dave Clark said in a statement. "By diversifying our energy portfolio, we can keep business costs low and pass along further savings to customers."