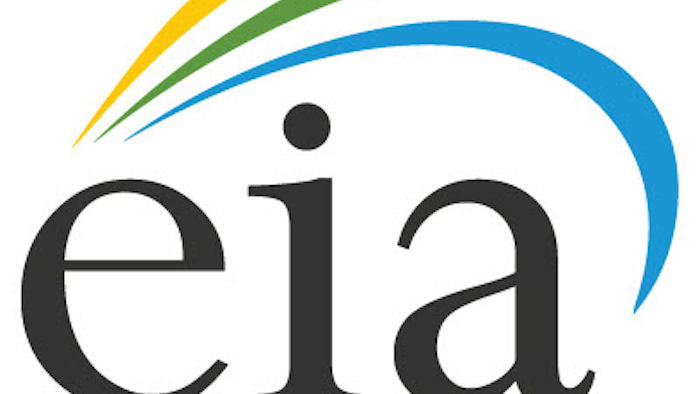 Highlights   
·  North Sea Brent crude oil spot prices fell by more than 15% in November, declining from $85/barrel (bbl) on November 3 to $72/bbl on November 28.  Monthly average Brent crude oil prices have declined 29% from their 2014 high of $112/bbl in June to an average of $79/bbl in November, the lowest monthly average since September 2010.  The November price decline reflects continued growth in U.S. tight oil production along with weakening outlooks for the global economy and oil demand growth. The Organization of the Petroleum Exporting Countries' (OPEC) decision in late November to maintain its current crude oil production target, despite lower oil prices, put additional downward pressure on price expectations.
·  The current values of futures and options contracts suggest high uncertainty in the price outlook (Market Prices and Uncertainty Report).  WTI futures contracts for March 2015 delivery, traded during the five-day period ending December 4, averaged $67/bbl.  Implied volatility averaged 32%, establishing the lower and upper limits of the 95% confidence interval for the market's expectations of monthly average WTI prices in March 2015 at $51/bbl and $89/bbl, respectively.  Last year at this time, WTI for March 2014 delivery averaged $96/bbl and implied volatility averaged 19%.  The corresponding lower and upper limits of the 95% confidence interval were $82/bbl and $112/bbl.
·  Total U.S. crude oil production averaged an estimated 9.0 million barrels per day (bbl/d) in November.  Projected total crude oil production averages 9.3 million bbl/d in 2015, a reduction of 0.1 million bbl/d from last month's STEO. 
·  Driven largely by falling crude oil prices, U.S. weekly regular gasoline retail prices averaged $2.78/gallon (gal) on December 1, the lowest since October 4, 2010.  U.S. regular gasoline retail prices are projected to continue declining for the remainder of the year, averaging $2.61/gal in December. EIA expects U.S. regular gasoline retail prices, which averaged $3.51/gal in 2013, to average $3.37/gal in 2014 and $2.60/gal in 2015. Forecast retail gasoline prices for 2015 are $0.35/gal lower than in last month's STEO.
·  U.S. population-weighted heating degree days (HDD) were an estimated 18% higher than the previous 10-year average for November. Despite a cold start to the winter, lower fuel prices and the National Oceanic and Atmospheric Administration's (NOAA) projection of near-normal temperatures for the remainder of the winter are expected to help lessen consumer expenditures on home heating compared with last winter.  Lower crude oil prices are expected to help reduce household heating oil expenditures by 27% ($632) compared with last winter, with U.S. heating oil prices averaging 20% lower at $3.09/gal.  Propane prices are expected to be 13% lower in the Northeast and 26% lower in the Midwest, resulting in households spending 20% and 34% less on propane in those regions, respectively. 
·  Natural gas working inventories on November 28 totaled 3.41 trillion cubic feet (Tcf), 0.23 Tcf (6%) below the level at the same time a year ago and 0.37 Tcf (10%) below the previous five-year average (2009-13).  Despite the lower stocks at the start of this winter's heating season, EIA expects the Henry Hub natural gas spot price to average $3.98/million British thermal units (MMBtu) this winter compared with $4.53/MMBtu last winter, reflecting both lower expected heating demand and higher natural gas production this winter.