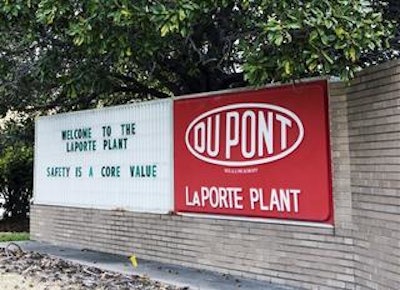 DuPont officials said Sunday it's still not clear what caused a toxic chemical to leak from a valve at a suburban Houston plant, killing four workers and injuring a fifth.
Company spokesman Aaron Woods said DuPont is investigating the cause of the leak of methyl mercaptan at a plant in La Porte. The chemical is used to create crop-protection products such as insecticides and fungicides.
The workers were exposed early Saturday while responding to the leak that started around 4 a.m. and took about two hours to contain. They all were working there as part of their normal shift when the leak happened, Woods said.
The four workers died at the plant and a fifth was transported to a nearby hospital. The injured worker has been released from the hospital.
Woods said company officials are cooperating with local, state and federal authorities in the investigation.
A team from the U.S. Chemical Safety Board, an independent federal agency that investigates industrial chemical accidents, arrived in the Houston area on Sunday to start its probe. The agency said in a news release that five of eight team members planned to receive a briefing from company officials Sunday evening, while the full team will begin work Monday.
Don Holmstrom, director of CSB's Western Regional Office in Denver, is leading the investigation team along with Investigation Supervisor Johnnie Banks. CSB Managing Director Daniel Horowitz is accompanying the team.
Methyl mercaptan also is used to odorize natural gas — which has no odor — for safety purposes.
The La Porte plant has 320 DuPont employees. Four other companies are also tenants at the complex.
Jeff Suggs, emergency management coordinator for La Porte, said the chemical release was not toxic for those living nearby, but that it caused a smell similar to rotten eggs.