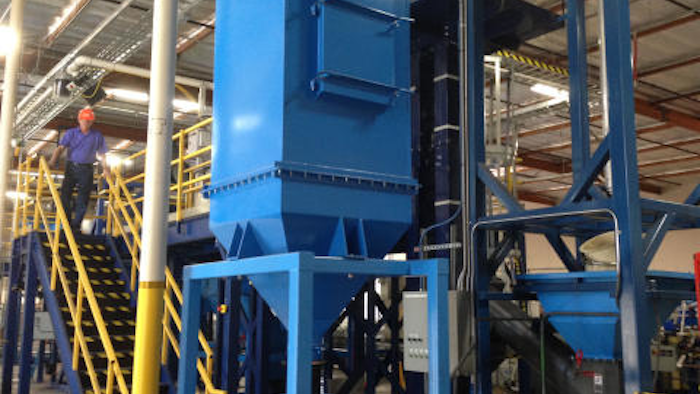 Cool Planet Energy Systems, a technology company that develops sustainable solutions for energy, food, and water, has unveiled its first commercial-scale production facility for its CoolTerra™ soil amendment. The new manufacturing facility is located in Camarillo, California.
CoolTerra™ is a highly porous soil enhancer engineered to retain water and fertilizer for improving soil health and productivity. For farmers and growers in the Western U.S. and elsewhere, the commercially available amendment gives them the ability to maintain or improve their crop yield, even in drought conditions with less water and fertilizer. Reducing fertilizer use mitigates water pollution from farm runoff.
"This is an important step for our company, and we believe for the agriculture industry more broadly," said Howard Janzen, President and CEO of Cool Planet. "We have developed a technologically-advanced soil amendment that enables farmers and growers to increase their crop yields with the same watering levels, and in drought conditions under water restrictions, to maintain overall production levels."
In a recent field trial testing the effectiveness of CoolTerra™ on high-value strawberry crops, CoolTerra™ increased production by 56 percent with normal watering levels and with 40 percent less fertilizer. In recent turf grass trials with a municipality, CoolTerra™ enabled water use to be cut in half while improving the overall appearance of the lawns.
"Based on the results of our scientifically-designed field trials and the early interest that we're seeing from growers, we know that this advanced soil amendment offers a compelling solution for addressing drought conditions and water restrictions," said Rick Wilson, Vice President, CoolTerra™ Business for Cool Planet. "While untreated soil allows water and nutrients to evaporate or leach into the ground, away from the root zone of plants, CoolTerra™ retains water and nutrients in the root zone due to its engineered properties."
"In addition to the results we've seen in drought-stricken California, we've also begun trialing CoolTerra™ in the Middle East to enhance crop yields in the arid desert climate," said Janzen. "And we're actively exploring other international market opportunities.
"Cool Planet focuses on developing sustainable solutions for the world's food, water, and energy needs. CoolTerra™ is in keeping with our company's mission by helping farmers improve the health of their soil to grow more food, while conserving water resources."