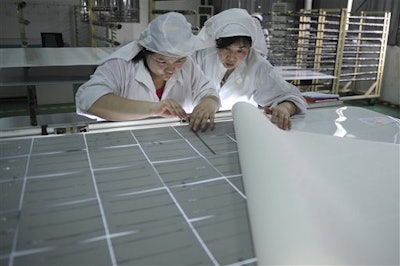 BEIJING (AP) -- The Europe Union and Chinese solar panel exporters said Saturday that they had reached a settlement in their long trade dispute, with the exporters agreeing to sell their products at a minimum price in the EU market.
The agreement ends one of the biggest-ever trade disputes between China and Europe — a row that threatened to escalate into a full-blown trade war involving European wines and to disrupt EU-China relations.
The settlement comes after negotiations that began in June when the EU announced that duties averaging 47 percent on Chinese-made solar panels, cells and wafers would come into effect in August. The EU said then that China was selling its products in the EU market at below-cost prices and harming the European solar panel industry.
In announcing the settlement, EU Trade Commissioner Karel De Gucht said that he was satisfied with the offer by the Chinese solar panel exporters and that the agreement would stabilize the European solar panel market.
"We have found an amicable solution that will result in a new equilibrium on the European solar panel market at a sustainable price level," he said.
The China Chamber of Commerce for Import and Export of Machinery and Electronic Products said in a statement that the price promise represents the majority will of Chinese companies and that it would allow Chinese manufacturers to continue to export their products to Europe and retain fair market shares. The chamber described the negotiations as "arduous" and "meticulous."
"China's solar panels industry is always committed to maintaining a fair international trade environment," the statement said. "It opposes trade protectionism and supports resolving disputes through negotiations."
Chinese Ministry of Commerce spokesman Shen Danyang said China welcomed the settlement. The EU is the largest export market for Chinese solar panel products, according to Shen.
In Europe and the United States, the price drop in the solar panels market in recent years has wreaked havoc among EU and U.S. manufacturers, forcing several out of business.
More than a fifth of all jobs — or about 24,000 — in Germany's once-burgeoning solar panel industry have been lost since 2011. A recent government report found that solar industry revenue dropped to 7.34 billion euros ($9.53 billion) last year from 11.9 billion euros in 2011 and blamed the price fall on cheap solar panels made in China.
But German Chancellor Angela Merkel, the most powerful EU leader, spoke out strongly against the duties, fearful they would result in a Chinese backlash.
In early July, China's commerce ministry opened an anti-dumping probe into wine exports from Europe in response to the EU's planned tariffs on Chinese solar panels.
Associated Press writer Frank Jordans in Berlin contributed to this report.