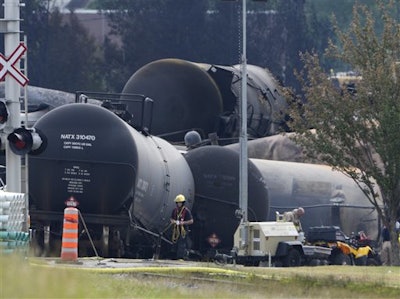 The deadly derailment and explosion of an oil train in Quebec involved DOT-111 type tanker cars, which have come under scrutiny from transportation safety experts concerned with what they say is their tendency to split open during derailments and other major accidents.
___
A RAIL WORKHORSE
DOT-111 tank cars are the workhorse of the rail freight industry, hauling all sorts of chemicals and hazardous materials such as crude oil an ethanol, the highly flammable corn-based fuel. A 1991 safety study revealed design weaknesses that accident investigators say almost guarantee the tankers will split open in major derailments. In some accidents, those breaches have spilled hazardous cargo that caught fire, exploded in spectacular blasts or contaminated the environment.
___
DANGEROUS DESIGN FLAWS
The National Transportation Safety Board has noted several worrisome problems with the type of car: Its steel shell is too thin to resist puncture in accidents. The ends are especially vulnerable to tears from couplers that can fly up after ripping off between cars. And unloading valves and other exposed fittings on the tops of tankers can break during rollovers, the NTSB says.
___
NEWER GENERATION OF CARS
The rail and chemical industries and tanker manufacturers have voluntarily committed to safety changes for cars built after October 2011 to transport ethanol and crude oil. The improvements include thicker tank shells and shields on the ends of tanks to prevent punctures. But the industry is appealing to regulators to reject NTSB recommendations that the 30,000 to 45,000 existing ethanol tankers built under the older specifications be modified or phased out. Such a requirement would have spiraling costs and present enormous engineering challenges, the industry says. Regulators have yet to decide.
___
RAIL SAFETY
Overall, the rail industry has a strong safety record, including on hazmat shipments. More than 99 percent of hazmat rail shipments arrive safely at their destinations, according to the Association of American Railroads, which promotes rail as the safest way to move hazardous materials over the 140,000-mile network belonging to its North American members. Supporting that conclusion, congressional mandates bar rail companies from refusing to haul shipments from chemical makers.