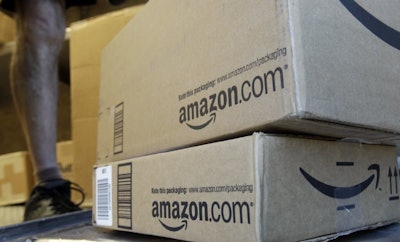 Amazon is reportedly interested in another novel way to address its need for additional — and increasingly expensive — warehouse space.

Reports this week detailed a patent awarded to the e-commence giant in April for what amounts to an underwater storage facility.

The filing with the U.S. Patent and Trademark Office indicated that Amazon products could be locked in airtight containers and placed in pools of water.

They would sit at the bottom of the pools until ready for shipment, at which point an acoustic signal sent through the water would trigger the container to open a balloon and float to the surface.

The containers could also be moved around using artificial currents in the water, Amazon engineers wrote.
In addition to curbing the need to build more distribution centers, Amazon noted that the system would more efficiently utilize storage space by eliminating the shelving and aisle space required in conventional warehouses — as well as the humans or robots needed to move things around.

The company's previously disclosed attempts to solve its warehouse capacity issues included hive-like drone delivery bases and, perhaps most implausibly, airborne warehouses.