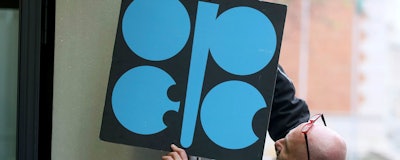 Qatar announced that it would leave the Organization of Petroleum Exporting Countries (OPEC) in January in order to focus its efforts on boosting natural gas production.
Qatar's energy minister, Saad Sherida al-Kaabi, announced the country would leave the oil cartel on January 1 after almost 60 years of membership. Qatar Petroleum, the country's state oil company, announced the departure from the cartel through a series of tweets. Qatar joined OPEC in 1961, one year after the organization was founded. The 15 OPEC nations supply approximately 44 percent of the world's crude oil collectively.
"Achieving our ambitious growth strategy will undoubtedly require focused efforts, commitment, and dedication to maintain and strengthen Qatar's position as the leading natural gas producer," Al-Kaabi said.
Natural gas is the cornerstone to Qatar's economy, accounting for more than 60 percent of their gross domestic product and 85 percent of export earnings. Al-Kaabi announced that Qatar seeks to boost its gas production "from 77 million tons per year to 110 million tons."
While Qatar is a global leader of natural gas production, the country only produces about 600,000 barrels of oil per day, less than 2 percent of OPEC's total production. Saudi Arabia, by comparison, produces around 10 million barrels daily.
For the past 18 months, Qatar has been under a diplomatic and economic embargo by OPEC members Saudi Arabia and the United Arab Emirates. This embargo stemmed from a long-standing border dispute and other political conflicts, and in response, Qatar has been increasing its natural gas production.
Al-Kaabi denied that politics were the cause of Qatar's departure, but some experts speculate that Qatar is looking to get out of an organization that is dominated by its hostile neighbor.
Qatar is the first country in the Middle East to leave OPEC. Indonesia also left the organization in 2009, though it briefly rejoined in 2016. Gabon and Ecuador also halted their memberships in the 1990s, only to return in later years.
Other ties have been fraying in OPEC, and Iran has criticized OPEC's decision to boost oil production ahead of U.S. sanctions on Iranian oil that came into force last month. Bijan Zanganeh, Iran's oil minister, has been outspoken about the cartel's problems and recently urged OPEC to examine the reasons for Qatar's exit. OPEC's alliance with Russia has also left some smaller oil-producing countries feeling powerless in the cartel.
Qatar's departure is likely to have little impact for OPEC's market share. Following the announcement of Qatar's exit, the price of oil barely moved. However, Qatar has played a significant role mediating internal rivalries in OPEC over the past few decades, so its absence will likely affect the internal politics of the cartel.
President Trump has criticized OPEC for high oil prices earlier this year. Because U.S. officials reportedly stopped Saudi Arabia from invading Qatar in 2017, Qatar has incentive to stay on Trump's good side. According to Qatari and OPEC officials and a former Trump administration official, Qatar alerted U.S. officials ahead of the announcement to leave OPEC.
OPEC officials are most concerned with the domino effect of Qatar's departure. "This will undermine OPEC in the long term," said a senior Gulf-region OPEC official. "It may make some producers rethink, why do we really need OPEC? And the market will also raise the same question."
Some experts also believe that Qatar's departure should reshape natural gas prices in the long-term, notably in Asia, where gas contracts are still linked to the price of oil. However, there is no sign of this happening at this time.