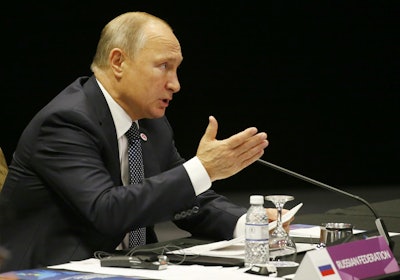 Russian President Vladimir Putin and Turkish President Recep Tayyip Erdogan have marked the completion of a key phase of TurkStream, a natural gas pipeline connecting the two countries.
Speaking at a ceremony in Istanbul, Erdogan announced the offshore part of TurkStream's two parallel lines two kilometers deep in the Black Sea had been finished and said the final leg of the "historic project" had been reached.
The lines are expected to supply Russian gas to Turkey and European markets through Turkish territories. Together, the two 930-kilometer (578-mile) underwater lines, along with the Russian and Turkish onshore pipes, will carry 31.5 billion cubic meters (1.1 trillion cubic feet) of natural gas annually.
"We are witnessing a very important event that is a clear demonstration of a partnership and cooperation between our countries in dealing with the most complex and ambitious projects," Putin said.
He added, "The implementation of projects like this one is a good example of an ability to stand up for one's own national interests."
The remarks appear to be referring to the Kremlin's long-standing position that some European nations are giving up lucrative deals with Russia under pressure from the United States.
Turkey relies on imports for its energy needs and Russia is its top supplier for natural gas. It bought nearly 29 billion cubic meters last year. That gas is currently transported through another line under the Black Sea, called Blue Stream, and the onshore West Line through Ukraine, which is mired in conflict with Russia.
"Turkey will be able to fulfill its own as well as European countries' natural gas demands without being exposed to transit risks," Erdogan said, as he announced that TurkStream would begin operations in 2019.
Ukraine's struggling economy relies on fees it receives for transporting Russian gas. Russia has threatened to stop using Ukrainian pipelines for transit but has not made any decisions to bypass Ukraine as a transit point altogether.
Turkey and Russia have warmed in the last two years after Erdogan apologized for the downing of a Russian fighter jet along the border with Syria in 2015 that soured relations. Their increasing cooperation in energy and trade as well as Ankara's pledge to buy a Russian surface-to-air missile defense system has worried the Western allies of Turkey, a NATO member.
Erdogan said the two countries aimed for long-term cooperation and their relationship was not dictated by "other countries' demands or impositions."
With Erdogan and Putin's instructions, the last part of the offshore pipe was laid on live broadcast, reaching Turkish shores at Kiyikoy near Istanbul.