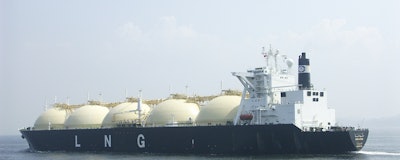 A top U.S. energy official said Monday that Asia is the center of growth in energy demand and offers a great opportunity to expand American liquefied natural gas exports.
U.S. Deputy Secretary of Energy Dan Brouillette told reporters in Tokyo that the U.S. is working with Japan and others to build facilities for U.S. LNG exports and improve their energy security. Japan is the world's biggest importer of LNG.
"The world is right here in Asia," Brouillette said. "Demand for LNG is very, very high here. There is an enormous amount of opportunities not only for U.S. businesses but also for Japanese businesses as well as other Asian businesses."
Countries trying to move away from fossil fuel and coal are turning to LNG as a cleaner option. Brouillette said he is not concerned about the impact of the U.S. trade dispute with China on the American LNG business given the sharp increase of Chinese demand in recent years.
Brouillette was in Japan to attend an international LNG conference and meet industry and government officials.
The U.S. doesn't require what are known as destination charges, which creates an economic opportunity to buy the gas at lower costs and sell it on the open market, Brouillette said.
Japan is the world's biggest importer of LNG, consuming one-third of global production. Its LNG consumption soared after nuclear plants were closed following the 2011 Fukushima disaster.
Japanese Minister of Economy, Trade, and Industry Hiroshige Seko, speaking at the LNG Producer-Consumer Conference in Nagoya, in central Japan, promised to expand Japan's support for projects jointly sponsored by private enterprise and the government to supply LNG and build infrastructure in Asia. He said Japan is seeking to create a 50 million ton LNG market in the region and is already cooperating with the U.S.
An increase in American LNG exports to Japan and other Asian countries is expected to reduce the U.S. trade deficit. That could also promote Japan's exports of LNG infrastructure, experts say.
(Source: Associated Press)