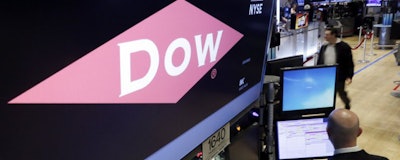 DowDuPont is naming the chief executives who will lead its agriculture and specialty products businesses once they're split off from the company.
The chemical giants Dow and DuPont merged last year in a deal valued at close to $70 billion, with plans to split into three distinct companies.
The company said Monday that James Collins, the chief operating officer at DowDuPont's agriculture unit, will lead Corteva Agriscience. Marc Doyle, the COO for the specialty products division, will become CEO of DuPont. Both companies will be based in in Wilmington, Vermont.
Jim Fitterling has already been picked to lead Dow, the materials science division, based in Midland, Michigan.
The three branches will become independent companies next year. The boards of the companies are anticipated to be finalized by October's end.
(Source: Associated Press)