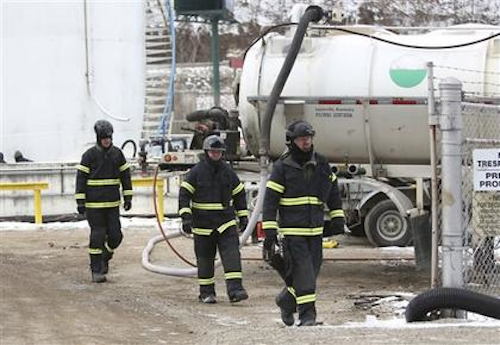 CHARLESTON, W.Va. (AP) — Freedom Industries and West Virginia regulators have signed an agreement for cleaning up the site of a 2014 chemical spill in the Elk River that prompted a tap water ban for 300,000
people for days.
The agreement announced Tuesday by the West Virginia Department of Environmental Protection will be done through the agency's Voluntary Remediation Program.
Previous agreements required Freedom to remove all contaminated soil and groundwater from the site, which is about 4.8 acres. In bankruptcy filings, company officials have said the voluntary remediation program will be less expensive, lessening Freedom's burden for cleaning the site.
The agreement sets deadlines for Freedom to submit cleanup reports and work plans to the DEP. The company's first deadline is April 20, when it must submit a report on an initial site investigation and interim measures taken so far. A work plan for a human health and ecological risk assessment is due in the third quarter of 2015. A remedial action completion report must be submitted in the second quarter of 2016.
All plans and reports must be approved by the DEP.
Freedom also must preserve all records required by the agreement, along with any other documents used to prepare the records, for at least three years.
If Freedom withdraws from the voluntary program, it is still required to clean up the site under a November 2014 consent order with the DEP.
Mark Welch, Freedom's chief restructuring officer, was in meetings Tuesday and not immediately available for comment.
Freedom filed for Chapter 11 bankruptcy eight days after the Jan. 9, 2014, spill. About 7,500 gallons of a coal processing chemical leaked into the river from Freedom's storage site in Charleston, about 1.5 miles from West Virginia American Water Co.'s drinking water intake.
Freedom and four former company officials are scheduled to be sentenced in June on federal pollution charges. On Tuesday, federal prosecutors asked the U.S. District Court in Charleston to delay sentencing for two defendants.
In court filings, prosecutors wrote that plea agreements with William Tis and Charles Herzing say they're willing to provide testimony in the cases against fellow former Freedom officials Gary Southern and Dennis Farrell.
Southern and Farrell have pleaded not guilty. Southern also faces fraud charges related to Freedom's bankruptcy case.
Prosecutors say Tis and Herzing should have their sentencing rescheduled until after the October trial of Southern and Farrell.
Farrell and Southern are scheduled to appear for a motions hearing Wednesday.