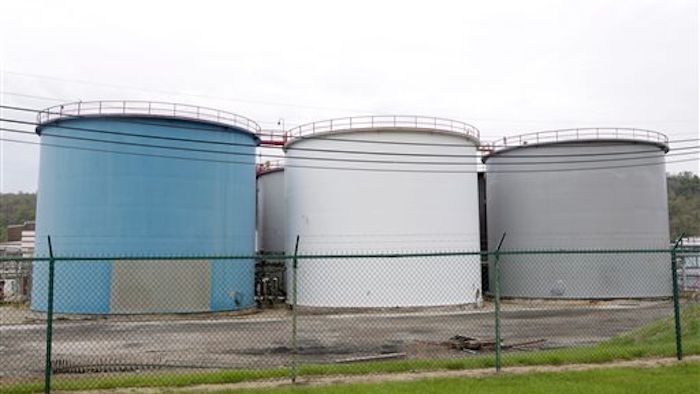 CHARLESTON, W.Va. (AP) — In a statewide survey of chemical tanks, the Department of Environmental Protection recently found about 50 tanks that were not-fit-for-service, but still held chemicals close enough
potentially to threaten public water supplies.
Since the survey, state regulators say most operators took their tanks out of commission. The others are monitoring their individual tank issues until they can complete repairs.
The biggest issues were corrosion and inadequate secondary containment safeguards.
Here's a look at what some of the almost 50 tanks held and where they are located, county-by-county.
Oil, brine, gas, or some combination: 30 tanks
Locations: Upshur (7), Raleigh (7), Logan (3), Barbour (2), Jackson (2), Randolph (2), Preston (2), Calhoun, Gilmer, Lewis, Mingo, Tucker
Diesel fuel: 6 tanks
Locations: Randolph, Lincoln, Mineral, Berkeley, Tucker, Monongalia
Crude oil: 3 tanks
Locations: Wetzel (3)
Caustic soda (hazardous): 3 tanks
Locations: Marshall, Logan, Mingo
Sulfuric acid (hazardous): 1 tank
Location: Mingo
Largest tanks:
275,000 gallons of caustic soda, Eagle Natrium plant in New Martinsville
63,500 gallons of diesel fuel, Essroc Martinsburg Cement Plant in Martinsburg
20,000 gallons of diesel fuel, Burns Motor Freight in Randolph County
10,000 gallons of sulfuric acid, CONSOL Energy Tug Valley Prep Plant in Mingo County