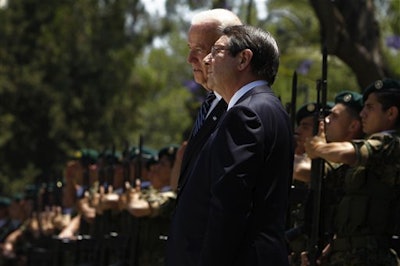 NICOSIA, Cyprus (AP) — U.S. Vice President Joe Biden says Cyprus's newly found offshore natural gas reserves can transform the eastern Mediterranean into a "global hub" for the fossil fuel.
Biden said Thursday that the small island nation is "uniquely situated at a critical time in modern history" to become a new energy conduit.
Cyprus President Nicos Anastasiades said gas deposits, also found in Israeli waters, can offer "an alternative energy corridor leading to increased energy security."
The gas could help reduce Europe's energy dependence on Russia, which has at times during the crisis in Ukraine threatened to cut deliveries.
Biden also pledged to provide any assistance to efforts aimed at reunifying the ethnically divided island. In 1974, Turkey invaded after a coup by supporters of union with Greece.