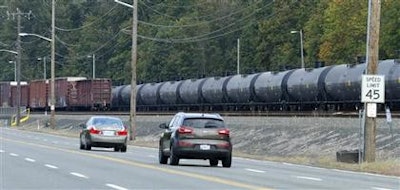 SEATTLE (AP) — With increasing numbers of volatile crude oil trains moving through Seattle's "antiquated" downtown rail tunnel, city emergency planners say more must be done to lower the risk of an oil-train accident and improve the city's ability to respond.
In a report to the Seattle City Council, emergency managers warned that an oil-train accident resulting in fire, explosion or spill "would be a catastrophe for our community."
The report recommends that BNSF Railway install radio communication, a fire-suppression system and a permanent ventilation system in the tunnel to make the city safer.
About one or two mile-long trains carrying crude oil from the Bakken region of North Dakota and Montana traverse Seattle every day.
BNSF spokesman Gus Melonas says the company has made improvements to ensure trains travel safely through Seattle.