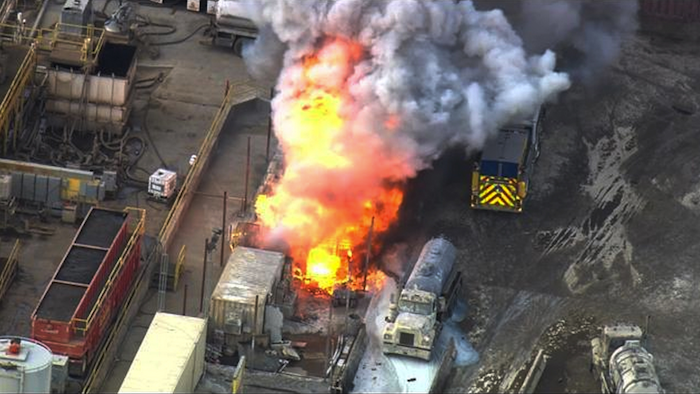 SANTA PAULA, Calif. (AP) — Hazardous materials crews were trying Wednesday to determine how to deal with an unstable substance remaining after an explosion and fire at a California waste treatment facility.
Only a handful of smoldering hot spots remained at the site in an agricultural area near Santa Paula, northwest of Los Angeles, according to Ventura County fire Capt. Mike Lindbery.
A vacuum truck exploded early Tuesday at Santa Clara Waste Water Co., spreading about 1,200 gallons of a chemical mixture that contained sulfuric acid and an organic peroxide, fire officials said.
The resulting substance is highly toxic and combustible, Lindbery said.
"We need to determine exactly what this material is," he said. "How do we neutralize it, and how do we clean it up?"
A private contractor will be in charge of the cleanup, under the supervision of county health officials and the federal Environmental Protection Agency.
No burn injuries were reported, but two drivers on the vacuum truck, three firefighters, hospital medical staff and a few nearby residents were washed down or treated for complaints such as breathing problems, red eyes and skin rashes, said Lori Ross, a spokeswoman for the Ventura County Fire Department.
Officials said 37 people were treated at hospitals, including one from the initial blast who had non-life-threatening trauma injuries.
After the initial blasts, firefighters backed off and let the fires burn themselves out rather than try to put water on the chemical and potentially flush it into the nearby Santa Clara River.
Concerned that toxic smoke might be drifting from the fires, authorities ordered the evacuation of the area within a mile of the plant, but it is mostly composed of farmland, light industrial businesses and only a few homes, Ross said.