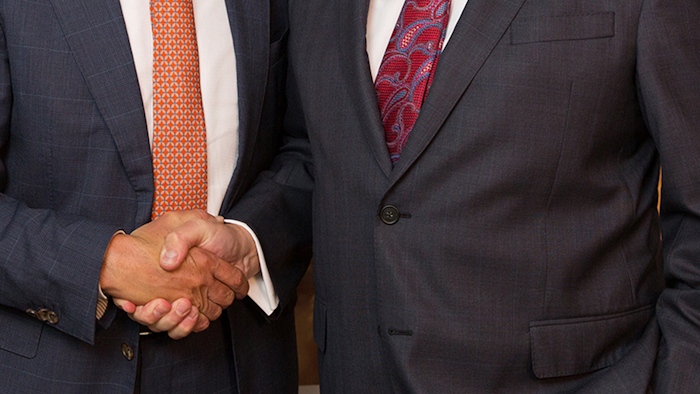 The global chemicals industry saw a drop in mergers and acquisition activity in third quarter of this year. Is the frenzy slowing down?
Not just yet, says Pam Schlosser, a US Chemicals Leader with PwC.
According to a recent report from the consulting firm, the global chemicals sector saw a 47 percent pullback in M&A activities in Q3. The average deal value also dropped to $822 million after "three straight quarters of industry-transforming deal announcements including ChemChina-Syngenta, Bayer-Monsanto and Dow-DuPont."
Although the numbers seem to signal a downturn, Schlosser says they most likely reflect the fact that many of these deals are being suspended in the regulatory review process.
That said, there are several factors that could be causing chemical executives to pause before leaping into bed with other companies.
What's Keeping Companies Apart
"There's just so much uncertainty. What will happen from a rate perspective?" Schlosser says, referring to uncertainty over which direction interest rates could go and how that could impact a company's ability to secure financing for a deal. 
Schlosser said companies could also be waiting to see what happens with the upcoming presidential election to find out how regulations and monetary policy will shift.
"The impact of Brexit is another one that has caused some pause," Schlosser says. "And I think the other thing is that regulatory approval process [for pending deals] is going slower than expected. In the EU there's definitely more focus on scrutinizing deals from an antitrust perspective."
Schlosser noted that despite the longer-than-anticipated regulatory reviews, she hasn't seen any indications that the pending big deals in the industry won't go through.
What's Driving Companies Together
Yet, the industry has been full of unexpected deals in the last year.
"The sheer size of deals involving major competitors coming together [has been a surprise]," Schlosser explains. "But it makes sense from a synergies perspective."
Although Schlosser says that pressure from activist investors has decreased in recent months, there is still pressure to grow quickly.
"It's the low growth environment that most companies are in. So, how do you grow the bottom line if you're not growing the top line? They're looking to M&A for that," Schlosser says.
There also continues to be a high amount of M&A activity in the agriculture and fertilizer sectors. The biggest deal announced in Q3 was Potash Corp's proposed acquisition of Agrium Inc. for $13 billion.
What About The Little Guy?
As big chemical companies come together to form mega chemical companies, how does that impact the little guy? According to Schlosser, it could make them more likely to get targeted for takeovers.
"So many of the smaller companies are being acquired because they can't compete anymore," Schlosser explains.
There's also a host of smaller deals happening as a trickle-down effect of the major ones. As big companies involved in mergers increasingly use divestitures to shed parts of their businesses and appease anti-trust regulators, Schlosser says every day pieces and parts are getting spun off and sold.
How much longer will this heightened level of M&A activity continue?
While Schlosser notes that the pressure is still on to get hitched and rumors continue about upcoming big deals, she also noted that soon there aren't going to be many major companies left in the industry who haven't already merged into something new.