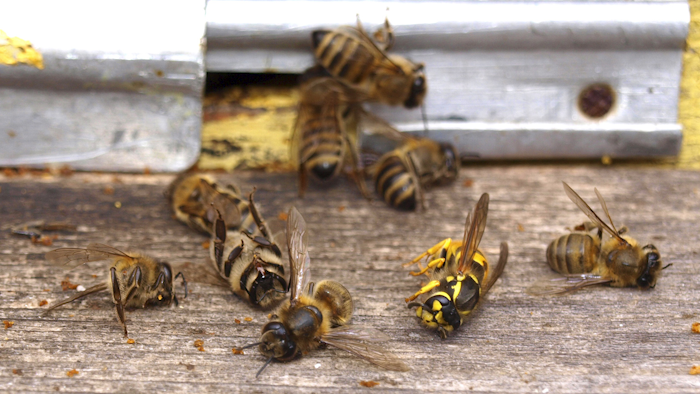 A local woman compared the sight to "a cemetery." After hours of insecticide spraying in Dorchester Country, South Carolina over the weekend, local beekeepers reported that the familiar buzz outside suddenly faded.
According to a report in The Washington Post one apiary said that 46 hives had died, which amounts to about 2.5 million bees.
The chemical in question is Naled, which has become one of the most common insecticides used in the fight against Zika in Florida. Naled kills mosquitos on contact and has been used in the U.S. since 1959. The Environmental Protection agency has declared that Naled is not toxic in humans at lower levels of exposure.
Even so, Naled is considered controversial by many. Earlier this summer, residents in Puerto Rico filled the streets to protest officials using Naled to fight Zika on the island. The chemical has also been banned in Europe. And while research suggests that it poses minimal risk to humans, research from Cornell University has shown Naled to be a neurotoxin that's "highly toxic" to bees as well as mosquitos.
In South Carolina there have been no instances of Zika cases caused by local mosquitos, but the country has been on high alert of the possibility the virus could be spreading. In the last few months, two parts of the Miami area have been deemed "Zika zones" due to a handful of infections contracted locally.
Yet, the friction between wanting to stop the spread of Zika and wanting to protect the environment is intensified by the ongoing debate about the possible connection between pesticides and rising bee deaths over the last decade. While environmentalists earnestly argue that a class of pesticides called neonicotinoids are to blame, studies have been less conclusive. According to a recent Bloomberg report, the only thing scientists agree on is that multiple factors are at play such as poor nutrition and bee viruses.
What's also clear is that the issue could become more critical if bee losses start impact food prices in the U.S. Right now, bee pollination is worth about $15 billion to the U.S. agriculture market.  
A city administrator in Dorchester Country reportedly said in a news release that he was "not pleased" so many bees were killed after Naled spraying in the area.
According to Washington Post, a Change.org petition has now surfaced that calls for an end to aerial Naled spraying in South Carolina.