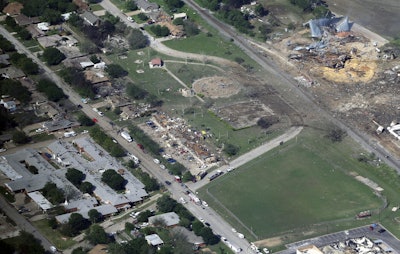 The small town of West, Texas recently marked the one year anniversary of a fertilizer plant explosion that shook the community, killing 15 people and injuring 200 others. Subsequent news on the blast may have eluded you, because it happened on April 17, two days after the Boston Marathon 
bombings when most Americans were focused on the Tsarnaev brothers. But since the blast in West, little has been done to ensure it won't happen again.
Besides the West Fertilizer Company being wiped out, the explosion flattened houses and a 50-unit apartment building, destroyed a nursing home and damaged a local school. Although the exact cause of the fires that resulted in the blast is still unknown, federal aid has been helping the town to rebuild and the town has sued plant owner Adair Grain and CF Industries.
In an AP story today, Nomaan Merchant reported that since the blast companies can still store hazardous chemicals in flammable wooden containers in buildings without sprinklers and volunteer firefighters still aren't required to train on how to fight such fires.
Since the blast there have been several investigations that have brought new information about safety deficiencies at the plant and voluntary safety steps have been taken by the fertilizer industry. But there hasn't been a single state or federal law passed since the explosion requiring stricter safety regulations.
In August last year, there was some outcry over the situation when it was reported that fire marshals were turned away from inspecting similar facilities in Texas. But it wasn't the industry pushing back. It appeared that facilities rooted in the 'old ways' of doing business were more fearful of what it could do to their business or what inspections might turn up.
"At this point, today, I would say that any resistance is more just fear of the unknown than anybody trying to hide or cover up some situation like West," said State Rep. Joe Pickett, chairman of the House committee at the time of blast. "I would believe if somebody thought they had something that was really dangerous, the only reason they would say no was to get it fixed that day."
Safety rules are limited for small fertilizers plants of this size, mainly because government agencies have different areas they oversee and aren't required to coordinate with other agencies on what they've found. There are as many as 1,150 such plants in Texas alone, with enough agricultural chemicals to fuel a large explosion.
This is not a case isolated to Texas. Accidents in the industrial sector happen often enough that could have been avoided by simple maintenance or following safety procedures. For instance, take the Freedom Industries chemical spill in West Virginia earlier this year. A one-inch hole in the bottom of a storage tank leaked 4-methylcyclohexanemethanol into the Elk River on January 9 forcing residents in nine counties to avoid using any tap water for several days.
The difference between these two industrial disasters is that before the month of January was over, lawmakers in West Virginia were already passing legislation to avoid another such catastrophe. On April 2, West Virginia Gov. Earl Ray Romblin signed the Water Resources Protection Act regulating storage tanks like the one that leaked at Freedom Industries. For the record, that's less than three months after the disaster.
To this day, the fertilizer plant explosion is still a hot topic in the small town of West. Since the fertilizer plant helped fuel the small economy, there's talk about rebuilding the plant. But that idea is highly controversial among local residents and the town is also looking at new industries to come to town.
What do you make of all of this? Is common sense lacking in regards to inspections and industry oversights? Is there an overwhelming fear of regulations and safety procedures? Or is it something else? Tell us what you think by leaving your comments below.