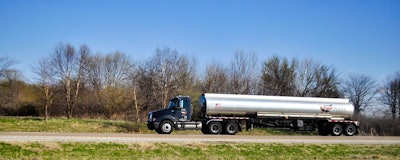 When dealing with bulk chemical transportation, there are numerous factors to take into consideration. From using the proper tanks during transport, ensuring truck drivers have the necessary training and permits, and having a full knowledge of HAZMAT rules so that chemicals are properly classified as hazardous before transport, the logistics of bulk chemical transportation involves many different aspects. To gain a greater understanding of these logistics and ensure all bulk chemical transportation is done in a manner that is safe and meets all state and federal rules and regulations, here is everything you need to know about the process.
Transporting to the Buyer
The first step involved in bulk chemical transportation is determining how much and what type of chemical will be transported to the buyer. Once this is done by the supplier, the tank to be used will be cleaned before having the chemical pumped into it at the supplier's facility. After this is completed, the tank is then hooked up to a truck for transport, and will be tracked by GPS to ensure it arrives on time.
Determining Transportation Costs
For suppliers and buyers to make a profit on the transport of chemicals, it is crucial that transportation costs be precisely calculated. To do so, a variety of factors come into play, such as the distance involved in making the shipment, the size of the shipment, and how many days it will take for the shipment to arrive. When determining these costs, it is important to remember that U.S. Department of Transportation rules require truck drivers to take breaks after driving for a certain number of hours. Therefore, these breaks should be factored into the total time for the trip.
Delivery to the Buyer
Once the chemicals arrive at the buyer's destination, they are pumped out of the truck's tank. In many situations, the chemicals are pumped directly into storage tanks, which may be located above or below ground. Or they may be pumped into tanks that are stored in warehouses or other facilities, where they will be used either for manufacturing or until they are resold or redistributed.
Using the Proper Tanks for Transportation
When transporting bulk chemicals, using the proper tank during transport will ensure everyone's safety. In most cases, one of four types of tanks will be used, which can include a general-purpose tank trailer, rubber-lined tank trailer, fiberglass-reinforced plastic, and aluminum tank trailers. Ranging in size from 5,000-8,500 gallons, each type of tank trailer is used for specific types of chemicals. For example, a fiberglass-reinforced plastic tank trailer will hold 5,600 gallons, and is used primarily to haul acids or various types of bleaches.
DOT and HAZMAT Requirements
There are various DOT and HAZMAT rules and regulations that must be strictly adhered to when doing bulk chemical transportation. For example, shippers must inform drivers and support staff of the hazards and regulations associated with the chemical being transported, and must also ensure the trucks, tanks, and trailers used in transport are in excellent condition. Along with this, all drivers transporting bulk chemicals must have a CDL and HAZMAT certification, and are required to inspect their equipment prior to the trip as well as make periodic inspections while on the road.
Fines and Penalties
Since bulk chemical transportation is strictly regulated, a number of fines and penalties can be enacted by the U.S. Department of Transportation and U.S. Environmental Protection Agency if suppliers are in violation of certain rules and regulations. Since the Hazardous Materials Transportation Act contains provisions for how hazardous chemicals are transported throughout the United States, violations regarding packaging, labeling, employee training, and operational procedures can lead to severe penalties. Since these penalties are considered federal offenses, criminal penalties can be levied against violators, and can range from fines of $75,000 or more, jail, or prison sentences, or a combination of these penalties.
Variation of Transportation Permits
Since chemical transportation is very dangerous, most cannot be transported across state lines without proper documentation. In many instances, specific permits are required from each state through which the chemicals are transported. Therefore, it is extremely important all paperwork be completed in a proper manner prior to transport. Otherwise, not only will the delivery of the chemicals be delayed, but it is also likely the transportation company and supplier will face extensive fines and other penalties.
For more information on the logistics of bulk chemical transportation, check out this infographic by Transport Resources.
About the Author:
Abby Drexler is a contributing writer and media specialist for Transport Resources. She regularly produces content for a variety of transportation and logistics blogs.