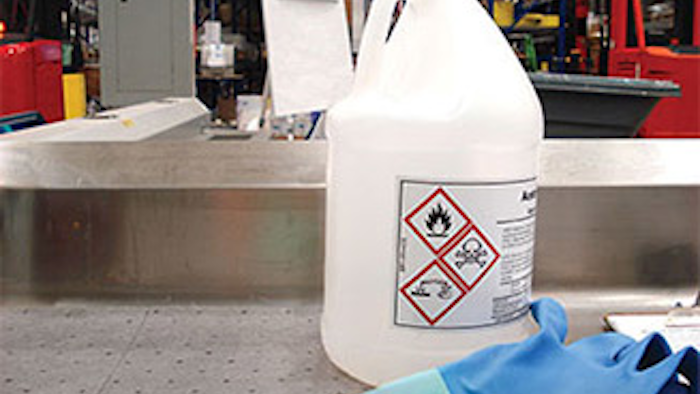 The GHS deadline is coming up faster than some companies might expect and past implementation experience has shown that implementing a GHS solution takes longer than expected, so it is important to start early before you are left without a GHS plan and are unable to ship GHS compliant products. Chem.Info sat down with Chris Cocanig, an expert in printing devices who has spent the last two years working on GHS applications/solutions, to ask him how to prevent the panic that can easily take over when a company attempts to bring their labels - and the software and hardware that go with them - up to par.  
Can you remind us where we are in the timeline of the GHS regulation implementation process?
The deadline is June 2016, which is when everyone should be completely GHS compliant based on OSHA's mandate/guidelines. If you have not already started your GHS process, start it now! There are many steps to GHS compliance and many factors to consider when deciding on the right GHS labeling solution for your product packaging. The labeling solution you choose must also fit into your company's printing infrastructure and possibly many other unique operational processes.
What is the most difficult part of implementing the GHS standards?
I think the most difficult part of implementing the GHS standards depends on the number of product a company produced and which of those must meet the GHS standards.  Typically, the most difficult task is just the culmination of all the tasks required to conform. However, a couple of the tasks that companies underestimate are the redesign of the label format, data to populate the label, and selection and implementation of the right printers and media.  Rearranging an existing printed image of a label to fit the new GHS pictograms, multiplied by the possible number of label formats a company may have to reformat, could be a daunting task.  Also, selection of a new printing solution that is compatible with existing ERP systems and capable of printing the desired label on label material that withstands the environment that chemical container may be exposed to could be just as difficult.
What do chemical companies need to consider before choosing a GHS solution plan?
Companies need to consider or sometimes reconsider their complete current product label printing process. Sometimes changes like this are a good time to make numerous improvements to older, cumbersome processes. Typical GHS implementations will require evaluation of the chemicals they package in relation to the new label requirements, the size of their label, the method they use to apply the label, the printer(s) capable of printing these new labels, the host system or software creating the labels, the label adhesion requirements, the durability of the print image, the environment they label/package in, the areas they ship to and many other factors that may be specific to their operation/application. Companies must understand the GHS legal requirements first, such as warnings, symbols and pictograms, then pursue the components to conform to the requirements. They should take into consideration current existing labels, content and layout components and how they will be carried over to the new labeling system.
These factors can govern many of the items I mentioned earlier, like the label size. In addition, some companies may want to include color logos or other graphical elements on their labels for brand or product identity. Companies may also want to consider not only their current needs, but also how they can make their printing operation more flexible for any changes they may want to implement in the future.
IT management departments should also consider their current host devices to determine whether they currently employ SAP, Oracle or another enterprise system to send print code data to the label printer. This could be an important component in selecting the right printer.
Some GHS-compliant equipment may not work as smoothly as others with existing ERP systems, especially if a proprietary system is in place. Solutions providers can make recommendations for equipment that's compatible with existing host devices, or suggest appropriate upgrades for better and more comprehensive solutions.
What are the benefits of a turn-key GHS solution?
Turn-key solutions are designed to relieve the stress a company's internal regulatory personnel face trying to conform. They also reduce the time it takes to implement a new GHS compliant solution. Integrators (like Peak-Ryzex) have the advantage of having evaluated the operations of numerous companies and are able to quickly find the synergies that can be compiled into turn-key solutions. These turn-key solutions help regulatory personnel focus on managing the production process and get correctly labeled products out the door, instead of them getting buried in the detailed components of the solution. Having the time to manage the process will effectively reduce downtime, avoid shipment delays and assure correctly labeled products.
Can you give me an outline of the Peak-Ryzex process when a company selects their GHS solution?
Our implementation process starts back at the initial operational review. We gather hundreds of operational pieces when we review a company for a GHS solution, then we crunch those through a multitude of previously implemented solutions to look for synergies that have worked. We duplicate proven components and fill in any missing components. Peak-Ryzex has been implementing warehouse management, manufacturing and ERP solutions for over 24 years. The experience we have in these areas has helped us create proficient GHS solutions quickly with many components that can be replicated for use in the chemical industry. 
Our high-level process is to evaluate and understand the current printing process, review all the label formats, materials and sizes, understand what the label maybe exposed to, review current hardware / printers, listen to the desires and goals of the customer, look for other changes that can be implemented at the same time, and then present solution scenarios that meet all the objectives.
Chris Cocanig has been in the Auto ID business for over 20 years, has a degree in electrical engineering from DeVry University and is an engineer by trade. He has worked at Wallace Computer Services, Moore-Wallace, RR Donnelly and Peak-Ryzex in many capacities: manager, Wallace Auto ID group, printer applicator engineer and printer solution product manager. He is an expert in printing devices, applications, software, etc., spending the last two years working on GHS applications/solutions. Cocanig has spent the majority of his career analyzing print operations and developing real world usable solutions to a wide variety of printing challenges.
Peak-Ryzex provides end-to-end enterprise mobility, managed services, printing and mobile data capture solutions for performance-driven organizations focused on the optimization of supply chain and field-based business processes. Their turnkey GHS solution focuses on the compliant labels and formats component of the regulation that needs to contain different elements including the signal word, symbols (hazard pictogram), product name or identifier, hazard statements and precautionary statements. Peak-Ryzex serves as a trusted business partner for some of the world's largest companies, while also supporting local and regional customers with an extensive coverage footprint throughout North America and Europe.