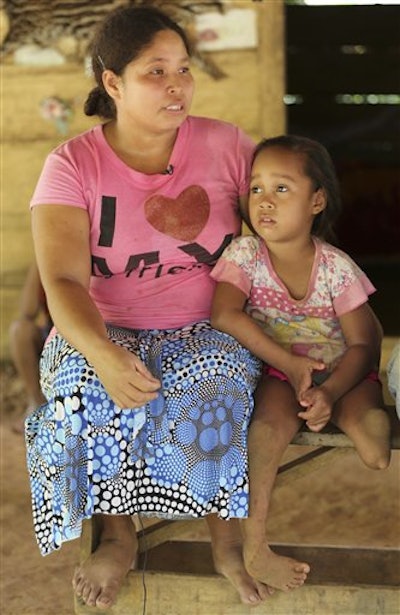 In the last few months, glyphosate, the most widely used weed-killer in the U.S., has become a target of heated debate.
The herbicide made headlines in March after the IARC, the France-based cancer research arm of the World Health Organization, deemed the chemical a probable carcinogen. The new classification took aim at the impact glyphosate could have during industrial use by agriculture workers, and said that it's not considered a risk for at-home use.
The findings were at odds with previous research on glyphosate, and the industry backlash was swift. A spokesman for Monsanto, which uses glyphosate as a key ingredient in its popular product, Roundup, argued, "All labeled uses of glyphosate are safe for human health."
Meanwhile, in Colombia, the fallout from the glyphosate debate has revealed the grim realities behind its use in combating the country's reliance on drug trafficking.
A few days ago the Colombian president announced that the country would halt the practice of spraying coca fields with glyphosate, which is typically carried out by U.S. officials to kill coca plants. The president cited the WHO ruling as his chief motivator, but observers have noted that the move could ease relations with Colombian rebels, who rely on the narcotics trade for funding, and help broker a peace deal.
It will also appease environmentalists who have long questioned the safety of the chemical, which has been sprayed on more than 4 million acres of land in Colombia over the last two decades.

And while officials in the U.S. continue to debate the safety of glyphosate, recent photos taken by the Associated Press show what some rural Colombians say is hard evidence the herbicide is damaging for human health.
An AP report found residents in a town called Crucito, where a first aid worker said he had encountered 20 miscarriages in the last year, even though the town only has about 75 families.
He also pointed to individual cases, such as 5-year-old Joani Londono (above and below), who was born with a club foot and a missing leg. According to AP: "Her mother attributes the malformations to having eaten vegetables from her garden just after a fumigation plane flew by."
AP also interviewed a man (below) who said that four years ago he was working in his rice paddy when he was sprayed with chemicals from a plane. Since then, he said he's suffered skin problems and trouble with his eyesight.
While the villagers said in their interviews they couldn't afford to seek medical care for treatment or to confirm the cause of their maladies, many in rural Colombia are still relieved the planes spraying glyphosate will no longer be seen overhead.
"If we continue in this land our lives will be at risk," Londono's mom said.