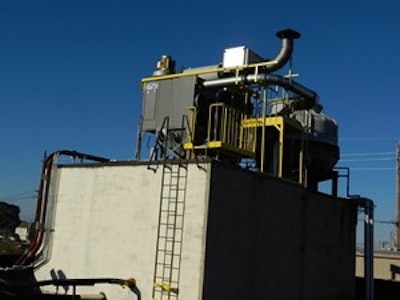 CSB Chairman Rafael Moure-Eraso
It took just minutes for a flash fire near a bag dump station inside a New Jersey ink plant to set off an orange fireball that engulfed seven workers. All of the workers were burned, one of them seriously.
Now, after releasing its report of the incident, the U.S. Chemical Safety Board is blaming outdated combustible dust regulations for contributing to the accident, and urging OSHA to respond with national rules.
The fire happened in October 2012 at a U.S. Ink plant, which is a subsidiary of Sun Chemical. According to the CSB, the dust collection system inside the plant was so flawed it took only a day for enough combustible dust and hydrocarbons to accumulate in the duct that it overheated, ignited spontaneously, caused an explosion in the rooftop dust collector and unleashed a fiery flash.
According to the CSB, "the volume of air flow and the air velocity in the company's dust collection system was significantly below industry recommendations — which, in the absence of a federal combustible dust regulation, are essentially voluntary."
The report pointed to gaps in New Jersey's and the country's regulatory system as the prime culprit in the accident. They noted that the state's Uniform Construction Code Act — which references dust standards — exempts "manufacturing, production and process equipment." The CSB called on the state to remove this exemption.
The CSB also concluded that the system's design didn't comply with the voluntary requirements of NFPA 91, which states: "All ductwork shall be sized to provide the air volume and air velocity necessary to keep the duct interior clean and free of residual material."
The CSB is urging OSHA to create a national general industry combustible dust standard. This was on the CSB's "Most Wanted" list in 2013, after several dust explosions occurred throughout the industry.
One notable incident was the Imperial Sugar plant accident in 2008 — 14 workers were fatally burned in the incident that happened after an explosion was caused by sugar dust. (Check out the CSB's video report that explains how that accident unfolded.)
When it comes to the U.S. Ink accident, CSB Chairman Rafael Moure-Eraso said, "Events leading to this accident began even before the earliest planning stages, when the company failed to properly oversee the design, construction and testing of a potentially hazardous system. The victims have suffered the consequences. We hope our recommendations are adopted so that these terrifying industrial dust explosion accidents will stop."
For other safety trends Moure-Eraso would hopes to see in the coming year, check out his recent interview with Chem.Info.
Click here for the CSB's full report on the U.S. Ink accident.