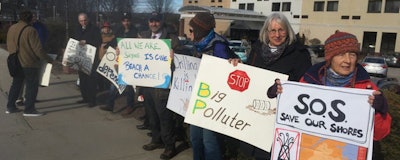 Dozens of protesters rallied in New Hampshire on Monday against a proposal by President Donald Trump's administration to expand offshore drilling, saying it poses a grave threat to the state's marine ecosystem and economy.
Protesters — some carrying signs that read "Stop Big Polluters" and "No Spill No Drill No Kill" — gathered outside a Concord hotel that was hosting an information session by federal officials to explain the process that could lead to drilling for oil and gas on the Outer Continental Shelf in the North Atlantic. The hearing is one of 23 the federal Bureau of Ocean Energy Management (BOEM) is holding on drilling plans including one in Maine on Wednesday.
Tom Irwin, director of the Conservation Law Foundation of New Hampshire, told reporters before the protest that oil and gas drilling put fisheries, tourism and recreation at risk. He said ocean resources in New England support 250,000 jobs and $17.4 billion in economic activity.
"The last thing we need are more man-made threats to our oceans and New England's natural resources heritage," Irwin said. "The Trump administration's proposal ignores the will of our coastal communities and millions of Americans who have voiced their opposition to offshore drilling."
New Hampshire's all-Democratic Congressional delegation and Republican Gov. Chris Sununu oppose the proposal. Rep. Renny Cushing, D-Hampton, said he and a bipartisan group of lawmakers will seek to suspend House rules this week to introduce a resolution making it clear that state lawmakers also oppose it.
"Our precious 18 miles of seacoast are threatened by the proposal by the Bureau of Ocean and Energy Management. Hampton Beach is the crown jewel of the state park system, it's responsible for the generation of substantial revenue for the state, and it's a big part of what anchors the economy of the New Hampshire seacoast," he said. "The proposal is a threat to small, recreational boaters, to our commercial fishing industry and to our tourism industry."
Inside a hotel ballroom, federal officials took questions from the public on the plan that would open 90 percent of the nation's offshore reserves to development by private companies. Interior Secretary Ryan Zinke announced the plan on Jan. 4, saying responsible development of offshore energy resources would boost jobs and economic security while providing billions of dollars to fund conservation along U.S. coastlines. The plan calls for 47 potential lease sales, including nine in Atlantic waters.
Most of those who attended the hearing were opposed to opening New Hampshire waters to drilling. Federal officials were careful to explain that drilling is still years, if not decades away, and could be scrapped in some areas once it weighs all of the potential economic and environmental impacts.
"There are a lot of passions around oil and gas drilling. People understand that it is a potentially risky activity," said Renee Orr, who heads BOEM's Office of Strategic Resources.
"It's a proposal, a draft proposal," she said. "It's important for people to know that the process we are talking about is 10 to 15 years from where we are now to when there might be exploration happening offshore."
(Source: The Associated Press)