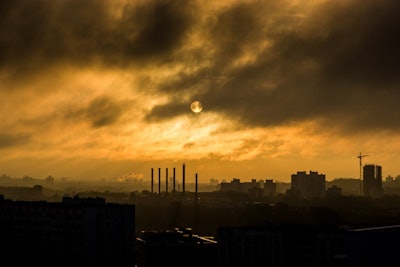 A recent report has shed light on the areas of America with the highest concentration of toxic chemicals.
The report was put together by Ode To Clean, a company that sells "environmentally friendly"cleaning products. Using Toxic Releases Inventory (TRI) data from the Environmental Protection Agency, the group broke down areas of contamination by states, cities and counties to identify the most toxic locations.
Overall, the group said their research showed that zinc and lead compounds from the mining industry were the most commonly found toxins.
Alaska released the highest amount of toxins (in pounds), and interestingly, about 91 percent of the state's pollution all come from one source: a mine that contains zinc, lead and silver in Kotzebue.
The states with the highest amount of toxic releases in 2016 included:
Alaska — 834,000,000 (lbs. of toxins)
Nevada — 317,000,000
Utah — 273,000,000
Texas — 210,000,000
Louisiana — 147,000,000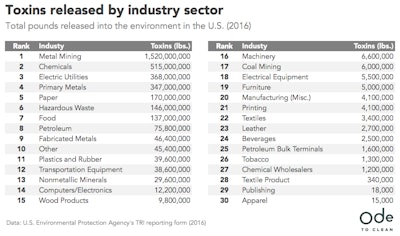 Perhaps unsurprisingly, Baton Rouge, La. is one of the most contaminated cities per square mile, partially due to the presence of a large refinery owned by ExxonMobil.
While metal mining was the top industry responsible for contamination, the chemicals industry came in second place.
The group also looked at specific companies who released the most toxins in 2016. While the list of the top 25 offenders was dominated by metal mining companies, several chemical businesses appeared were included, such as Ascend Performance Materials (No. 4 — 67,243,177 lbs. of toxins); Chemours (No. 15 — 34,071,250 lbs.); and Monsanto (No. 21 — 23,099,089 lbs.).
According to the EPA, the TRI program is designed to manage toxic chemicals that may pose a threat to human and environmental health. The agency uses the reported data in the TRI to help inform regulatory decisions and inform the public about contamination.

To view all of Ode's findings, click here.