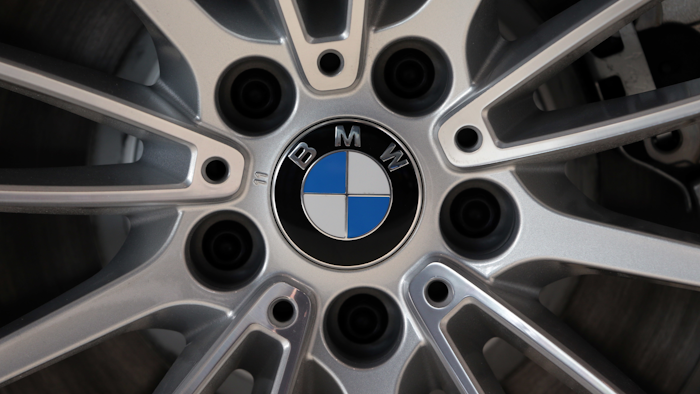 FRANKFURT, Germany (AP) — Automaker BMW beat expectations with a 20 percent increase in third quarter net profit from a year earlier, as the luxury automaker maintained rich profit margins despite slowing demand in China.
The company said Tuesday that demand in China appeared to be "stabilizing" after a slowdown in the economy, which is expected to keep a lid on profit increases for the rest of this year.
The maker of the X5 SUV and 7 Series sedan said profits rose to 1.58 billion euros ($1.74 billion) from 1.31 billion euros in the year-earlier period, when the company had to deduct charges for the changed valuation of financial derivatives.
Revenues rose 14 percent to 22.34 billion euros, helped by tail winds from currency exchange rates. Earnings per share of 2.39 euros beat analyst expectations for 2.20 euros per share compiled by financial information provider FactSet.
BMW AG said it achieved a profit margin of 9.1 percent before interest and taxes, within its target range of 8-10 percent. That's a key figure, because it underlines the higher profits that can be reaped from sales of luxury cars compared to more modestly priced vehicles.
The company reaffirmed its forecast for increased sales and profit for the full year.
It cautioned that increases would be held down by increasing competition, rising labor costs, and what it calls the "normalization" of auto sales in China.
BMW and German competitors Volkswagen and Daimler AG have seen outsized increases in sales in China over the past several years. But growth there has shown signs of slowing recently.
Analyst Max Warburton at Sanford C. Bernstein said the results were "a pleasant surprise."
"BMW's profitability with a 'normalized' China is unclear," he wrote in an emailed research note. "It's clearly going to be lower than in the glory years but if it's still high single digit then it's an impressively resilient performance."
CEO Harald Krueger defended diesel engines as crucial to meeting carbon dioxide emissions goals in Europe. Diesels have come under a shadow recently because of the scandal over diesels built by competitor Volkswagen with engine software that enabled them to cheat on U.S. emissions tests.
"Without diesel it is not possible to meet the EU's ambitious goals for CO2 emissions," Krueger said in a conference call with journalists.
Diesels are more efficient than gasoline engines when it comes to carbon dioxide emissions many scientists blame for global warming. But they emit more nitrogen oxide, which causes health problems. BMW said it had seen no reduction in customer interest in its diesel models.